Hey everyone so my next review and giveaway is for
Crazy Dog T-Shirts
and
Nacho Mama Tees
. You may remember that I reviewed both of these in the past
here
and
here
. They contacted me again and I got to review another t-shirt from them all that was under $16.99 so I chose this excellent one: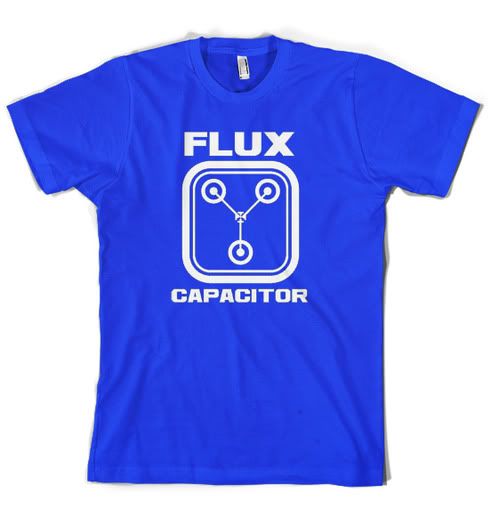 In case you're wondering what a Flux Capacitor is, well, my friend you need to watch more movies, three specific movies: the Back to the Future films.
I'm a big fan of Back to the Future and it's a shame there's not many t-shirts to represent such a classic movie trilogy, which is why I was pretty pumped to get this awesome shirt. I like it because it's kind of an inside joke, only cool people that have seen the movie know what it is, but if you've never seen it you wouldn't know what the heck a flux capacitor is.
But both sites are really great, they have a huge variety of great shirts. From really funny ones to tv and movie ones to even retro ones. The humor ones are great too because just that section alone has a huge variety of humor from Chuck Norris to the Jersey Shore. They even have holiday humor like shirt based off of the classic Christmas film, Christmas Vacation. Definitely a shirt from everyone, guys and girls! And t-shirts are great for everyone, who doesn't like to just chill out in some sweats and a tee.
Crazy Dog T-shirts
is the number one source online for funny t shirts and vintage shirts that help you stand out and get noticed. Founded in 2004 the t-shirt empire offers custom shirts in Rochester, NY. They provide customers with a variety of cool t-shirts and crazy shirts. Featuring both creative original concepts and popular licensed designs. Looking for a funny t shirt? They have hundreds of funny shirts which you won't want to miss!
Nacho Mama Tees
has some of the best offensive t shirts around. Founded in 2004 the t-shirt giant offers funny shirts which include chuck norris shirts, hangover t shirts and zombie tshirts. They provide a variety of funny t shirts and crazy shirts. With new mens vintage tees and great movie t shirts you are sure to find one you will fall in love with!
Both websites are pretty reasonable too, most of their shirts are under $20! Both even has a $6.99 daily t-shirt special. Definitely check out both websites, you won't be disappointed!
Buy It!
Head on over to
Crazy Dog T-Shirts' website
and
Nacho Mama Tees' website
and browse the enormous selections.
Win It!
ONE winner will receive a shirt from either Nacho Mama Tees or Crazy Dog T-shirts of their choice under $16.99!
1. Head on over to
Crazy Dog T-Shirts
or
Nacho Mama Tees
and tell me what shirt you'd like.
Please do these entries first or else your comment will not count! You must do this first or future entries will not be counted.
(1 entry)
BONUS ENTRIES
2. Subscribe by Email and Confirm that Subscription (1 entry)
3. Follow me on Twitter. (1 entry)
4. Tweet about this giveaway and send me a direct link to that tweet, you can do this once a day. (1 entry per day)
5. Subscribe to my YouTube channel. (1 entry)
6. Add my StarIMPULSE button to your sidebar and send me think link to your blog so I can see it. (1 entry)
7. Add StarIMPULSE to your blogroll (using my URL), with a link back to me! (1 entry)
8. Blog about this post. Comment below linking me to your blog. (1 entry)
FOR FIVE BONUS ENTRIES:
9. Follow starIMPULSE on blogger. Comment five times below saying you did so. (5 entries!!)
ONE winner will be chosen on January 30th, 2011 at 5:00PM (EST) and then will be emailed.
Alternate winners will be chosen if winner does not respond after 48 hours. This contest is only open to all US and Canadian Residents. Thank you and good luck!
Disclaimer-
I was provided a product in exchange for my review.
You can read more about my blog policies in my disclaimer.