Hey everyone! So my next review is for
Amy's
. Amy's is known for natural and organic premade meals. All you have to do is microwave them and bam! They're great for specialized diets, whether you just want to eat more healthy or are a vegan or allergic to gluten. I'm vegetarian, so I've been a big fan of Amy's for a while. They make such great meals, perfect for a lazy cook/non-cook like me. I received a few coupons and was able to review some of my favorite meals.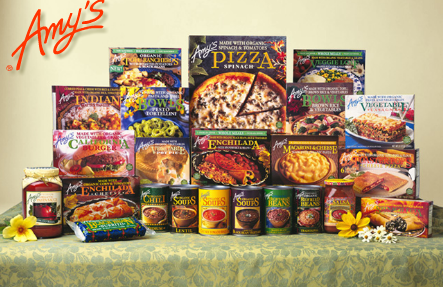 I'm a huge fan of pretty much all of their meals but specifically their enchiladas and pot pies. Soup wise, I'm a big fan of their lentil soup, perfect to warm you up for a winter evening. Their enchiladas, whether they're black bean or cheese or whatever are great because I love mexican food. If I could eat Mexican meals for the rest of my life but not get fat like I probably would, I would confidently say I would. I would eat burritos and enchiladas and black beans and anything for the rest of my life. But they are so many calories, especially my love, Chipotle. But Amy's enchiladas and burritos are pretty reasonable and actually healthy for you. The black bean vegetable enchilada has 2 servings because there's 2 enchiladas and they're only 160 calories per serving. Not back for something that is insanely delicious.
I love the vegetable pot pie too because it's easy to make and just delicious. I'm a big fan of pot pies mainly because the same reason I'm a big fan of burritos. Boring on the outside but a delicious tasty party on the inside.
They also have some bangin' Indian food, breakfast meals, pizza, kid's meals, salsa, even desserts. They also have products that are light in sodium too. My freezer is stock piled up with Amy's.
They're website is pretty great too, it really helps you to pick and choose what meals you want to try in the future. They even have diet plans to help you incorporate their meals as well as eating healthier into your daily life.
Definitely check out Amy's, whether you're a vegetarian or a mexican food fiend like I am, or just like trying out delicious food, you will definitely love Amy's.
Buy It!
Head on over to
Amy's website
and browse their awesome meals and snacks. Check out the
Store Locator
tab up top to see where they sell Amy's near you. For me it's almost everywhere: ShopRite, Target, Stop and Shop, etc.