Hey everyone! So my next review is for
Crocktees
. Crocktees is a great funny t-shirt website that focuses on mainly political and alcohol humor with a splash of sports and pop culture, which is great and my type of funny t-shirt website. I chose the "Keep Calm and Carry On" shirt.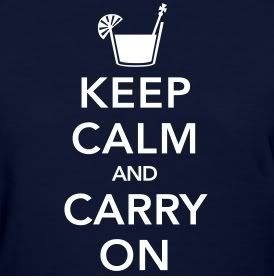 Some little history on this shirt because the an internet sensation parody of this shirt is going around, whether it's changing the words to "Keep Calm and Rock on" or changing the symbol that's on top. I don't know what started it, maybe because The King's Speech was released. "Keep Calm and Carry On" actually is a poster from the beginning of WWII in England, it actually has a crown and not a cocktail up top. It intended to raise the morale of the British public under the threat of impending invasion. For the most part I'm not a fan of this internet parody craze, at least not a fan of the word changing ones. But I did like this one just because the simple change from crown to cocktail makes it subtly funny. You can wear this shirt out and not have to worry about it being too loud funny. It's more inside joke funny.
Overall the website is pretty great. There isn't a huge selection mainly because it's still a relatively new website, it was created in 2009. Yet it still has a nice selection of funny shirts, mainly catering to younger college/recent college grad men and women. Though you should definitely check out the website. We all know that Valentine's Day and St. Patrick's Day are coming up and they have quite an awesome collection for both holidays. St. Patrick's Day ones are great especially if you're irish.
I also like that they have a selection of types of t-shirts, you can get fitted or classic as well as a huge selection of colors to choose from.
The price of these shirts are great too, for instance the shirt I chose is only $10.99 as compared to $18 to $20 something most t-shirt websites usually cost. They're definitely worth it too because they're like all those expensive t-shirt sites, they're 100% cotton, comfy tees!
Definitely check out their website if you need a t-shirt or if you need to get a funny gift for someone.
Buy It!
Head on over to
Crocktee's website
and browse their awesome selection!
Keep checking back and reading this blog because in a few weeks we'll have a special St. Patrick's Day giveaway with Crocktees and you're chance to win an awesome t-shirt!