Hey everyone! So my next review and giveaway is for
Kusmi Tea
. Kusmi Tea is a great tea company that originated in Russia, it blends the finest natural ingredients from around the world, making each tea distinct. Kusmi Tea has a wide variety of teas combining different tea leaves from China, India, and Ceylon into the perfect array of flavors. They have a variety of types like Green Tea, Decaf Tea, Black Tea, Herbal Tea, and Wellness Tea. I had the chance to review one of their bestsellers, the Detox Tea from their Wellness Tea.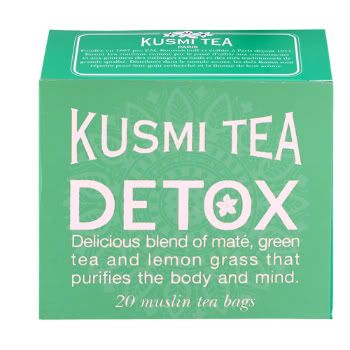 Their Detox tea is a blend of Maté, Chinese Green Tea, and lemon grass full flavored with lemon. As the website says:
"The combination of Maté and green tea virtues -- diuretic and stimulating properties, richness in antioxidant -- makes Kusmi Detox the perfect companion for slimming and detoxifying diets. Known for its tonic properties, mate does not have the side effects generated by caffeine."
I heard about this Detox tea in
Vital Juice Daily
which I subscribe too and it sounded really cool. It helped Lady Gaga kick her cigarette habit and is great for helping people on a diet.
But let me just say, don't be worried that it's called "Detox" tea and is great for diets, there are no laxatives in this tea or anything of that sort. It just makes a great addition to help with your diets. It's great for your late night snack cravings, instead of opting for that box of cookies try a cup of this. Plus it packs a whopping antioxidant load. Antioxidants are great for health reasons specifically to maintain your health and prevent against diseases like cancer and coronary heart disease.
The flavor is really great too. While some green teas are fairly plain and boring tasting the infusion of flavors make a soothing, smooth taste. That is great sweetened or even without. I prefer adding sugar but no milk, just because I'm a sugar fiend. But it's quite delicious either way. Definitely one of my favorite green teas.
What's also great about this tea is that it comes in loose leaf and tea bags, Kusmi sent me a box of their tea bags. While I love loose leaf, sometimes tea bags are just easier, especially when you're on the go for breakfast in the morning.
Kusmi has a great variety of tea too, they even have chocolate tea! Which sounds amazing and was definitely my second choice. If you're a fan of tea, you will definitely be a fan of Kusmi Tea. They have a flavor for everyone.
Buy It!
Head on over to
Kusmi Tea's Website
and browse their huge selection. Or click on the
Store Locator
tab and see if Kusmi Tea is at a store near you.
Win It!
ONE winner will receive a box of Detox Tea for themselves!
1. Go to
Kusmi Tea's website
and comment on this post telling me what tea you'd like to try next.
Please answer this question or else your comment will not count! You must do this first or future entries will not be counted.
(1 entry)
BONUS ENTRIES
2. Follow starIMPULSE on blogger. (2 entries!)
3. Subscribe by Email and Confirm that Subscription (1 entry)
4. Follow me on Twitter. (1 entry)
5. Tweet about this giveaway and send me a direct link to that tweet, you can do this once a day. (1 entry per day)
6.Subscribe to my YouTube channel. (1 entry)
7. Add my StarIMPULSE button to your sidebar and send me think link to your blog so I can see it. (1 entry)
8. Add StarIMPULSE to your blogroll (using my URL), with a link back to me! (1 entry)
ONE winners will be chosen on February 23, 2011 at 5:00pm(EST) and then will be emailed.
Alternate winners will be chosen if winner does not respond after 48 hours. This contest is only open to all US and Canadian Residents. Thank you and good luck!
Disclaimer-
I was provided a product in exchange for my review.
You can read more about my blog policies in my disclaimer.