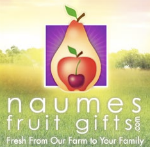 Hey everyone! So my next review and company is for
Donate Fruit
. Donate Fruit (formerly known as Naumes Fruit Gifts) is a really great company that sells great fruit as well as gourmet gift sets of appetizers, snacks, fruits and much more. What's great bout Naumes is that every gift purchase is matched pound for pound with a donation of fruit to food banks, which just really really great and definitely shows they live up to their name. I received their Foothill Tapas to review.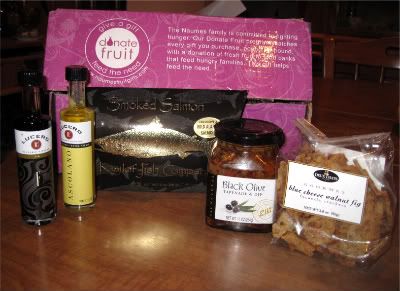 This collection includes:
50ml Ascolano Olive Oil
50ml Fig Balsamic Vinegar
2oz Smoked Salmon
10oz Black Olive Tapenade
Bleu Cheese Walnut Fig Focaccia Crackers
Yummmm. Well, let's start with the bad and just get better and better. I didn't like the Black Olive dip, I'm not a fan of olives and I tried it because the other ingredients in the tapenade so I was hoping you know I'd end up liking it. Nope. So, lesson of the day is just don't eat it if you don't like it. I was also kind of bummed because the crackers were all broken and practically crumbs and that was a downer. I wound up giving the black olive dip to my Uncle's girlfriend and she quite enjoyed it. So if you like olives, like she does, I'm sure you will enjoy the Black Olive Tapenade.
But, after saying that, can I just say that everything else, including the cracker bits, were SO DELICIOUS. I was a bit wary of the smoked salmon because you don't need to refridgerate it and it lasts for 12 years. I'm not used to fish like that, so I was skeptical. But oh my god, it was so great! I ended up eating the entire packet myself. It just tasted like salmon but not hot, it was delicious. Also it was less than 100 calories and the packet gave you a pretty large slice. I cut it up, put it on the crackers as well as dipping it in the vinegar and oil, mmm, so good.
The oil and vinegar was great too. The balsamic vinegar was fig flavored so it was sweeter than regular balsamic. I really enjoyed it. I love vinegar and sweet stuff so it was perfect for me.
Overall I really enjoyed this gift set, it was gone within like a half an hour and all me. Nobody helped me. It tasted incredible. Also, what they stand for, I love how they're trying to take steps to fight against hunger. For 1 in 6 American's hunger is a daily reality. Fresh and nutritious food is a vital component of healthy nutrition. Because needy families often rely on cheaper, processed foods that can lead to obesity and other health problems, donatefruit® is committed to providing healthy fresh fruit to their tables. To date, the donatefruit® Cause has given over 11 million pounds of fresh fruit to feed America! That's really great.
Definitely check out Donate Fruit, they have a great selecton of gifts from chocolate to sausage and loads of pears. You won't be disappointed!
Buy It!
Head on over to
Donate Fruit's website
and browse their awesome selection.
Win It!
ONE winner will receive a Foothill Tapas gift set too!
1. Go to
Donate Fruit's website
and comment on this post telling me what product you'd like to try in the future.
Please answer this question or else your comment will not count! You must do this first or future entries will not be counted.
(1 entry)
BONUS ENTRIES
2.
"Like" Donate Fruit on facebook.
(1 entry)
2. Follow starIMPULSE on Google Friend Connect. (2 entries!)
3. Subscribe by Email and Confirm that Subscription (1 entry)
4. Follow me on Twitter. (1 entry)
5. Tweet about this giveaway and send me a direct link to that tweet, you can do this once a day. (1 entry per day)
6.Subscribe to my YouTube channel. (1 entry)
7. Add my StarIMPULSE button to your sidebar and send me think link to your blog so I can see it. (1 entry)
8. Add StarIMPULSE to your blogroll (using my URL), with a link back to me! (1 entry)
ONE winners will be chosen on March 2nd, 2011 at 5:00pm(EST) and then will be emailed.
Alternate winners will be chosen if winner does not respond after 48 hours. This contest is only open to all continental US Residents. Thank you and good luck!
Disclaimer-
I was provided a product in exchange for my review.
You can read more about my blog policies in my disclaimer.