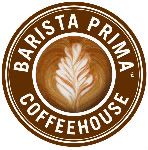 Hey everyone! So my next review is for
Barista Prima Coffeehouse K-Cups.
As the website says:
"A passion for the rich, deep-roasted brews of Italy lies at the heart of Barista Prima Coffeehouse™, an exclusive collection of the world's finest Arabica coffees roasted in the tradition of Europe's most celebrated coffee houses."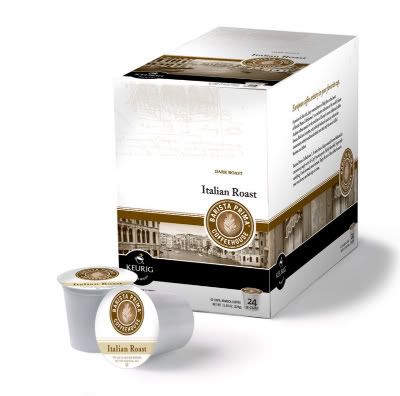 I sampled all four of their roasts:
French
Italian
Colombian
House Blend
We have a Keurig coffeemaker at home and have had it for a while now. It's one of those machines, much like Tivo for me, that you realize "How in the world did I live life without one of these?" It's amazing, whether you have loose coffee or the K-Cups. It's a really, really great system.
But now this isn't a review of the Keurig but for Barista Prima Coffeehouse. These coffees are really great for true coffee fans. Mainly because there are so many flavored, light, sweet, decaf, etc. types of coffee out there nowadays it's nice to go back to basics and enjoy real coffee. These four roasts vary in medium-dark to darkest as well as even in notes of flavor.
I'm not a huge fan of coffee but I do enjoy it and actually have recently made the switch from juice to coffee in the morning mainly for calories reasons, to be honest. But I'm getting a taste for it and it was nice though to try the variety in flavors.
The Italian roast at is very rich, dark, and very strong. I needed a bit more stevia than usual in this cup. Next was the House Blend, which tasted like just your basic coffee, pretty good. The Colombia Blend was nice medium-dark roast and almost a bit nutty, this one was my favorite. Mainly because it wasn't too strong but it was strong enough, plus tasted very good. The French roast was the darkest roast and very strong, very bold and the strongest one, once again I loaded up on the stevia.
Overall though, all of the roasts were very good and did their job. I also received a biscotti with the set and that was pretty delicious too, a great partner to the delicious coffee. Also feel free to follow
Barista Prima on Twitter
and friend
Barista Prima on Facebook
.
Buy It!
Head on over to
Barista Prima's website
and browse the selection or check out
Green Mountain Coffee's website
where the coffee is available in a 24-count box of K-Cups for $19.45.
Disclaimer-
I was provided a product in exchange for my review.
You can read more about my blog policies in my disclaimer.