Hey everyone! So my next review and giveaway is for
Best Price Nutrtion
. Best Price Nutrition is a great website for nutritional items sold at discounted prices. From vitamins to protein to energy supplements, this website has it all.
I was sent a variety of great items to try.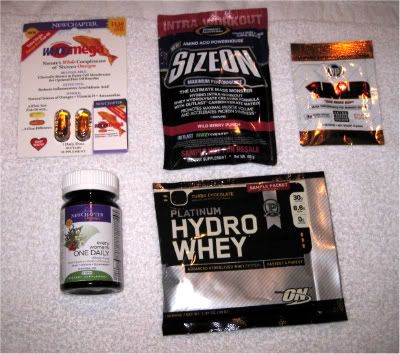 The Items I received are:
WholeMega Omega-Rich Fish Oil
Every Woman's One Daily Multi Vitamin
Platinum Hydro Whey Protein in Turbo Chocolate
Size On Maximum Performance
1MR Pre-Workout Powder
I know what you're thinking, hardcore workout stuff. And you know, you may be right. Best Price Nutrition was really awesome in selecting a few items I may like after I explained to them that I do like working out with my brother. I let him try the Size On and the 1MR because he has heard great things about Size On and I basically wanted to use him as a guinea pig with 1MR, hahaha. The other stuff was alll me. Let me go one by one:
WholeMega is basically like super fish oil tablets. It is a naturally pure 100% wild-caught Alaskan salmon oil that delivers the whole, natural omegas, antioxidants and vitamins found in wild Alaskan salmon – the good stuff "purified" fish oils can destroy with chemical processing. Fish oil tablets like these offer many health benefits, including nourishment of the brain, heart, eye and kidney tissues. So it was cool to try them, I can't really tell you if it nourished any of those body parts because but I can tell you that I am feeling healthy. Also I really like these types of tablets because they have no taste and are easy to swallow. They look big and intimidating but when you put them in your mouth and you might hesitate swallowing them, there's no gross taste, and little things like that are important to me in supplements like this.
The Multi Vitamin is a pretty self-explanatory. All of New Chapter's Multis are probiotic and whole. The herbs and cultured whole-food vitamins & minerals in each formulation work together to promote optimal health and deliver condition-specific benefits – not just address nutrient deficiencies. These were great too, again pretty large, a little bit of a taste, but not so bad.
The Whey Protein was pretty excellent. I'd say my favorite, but I am a bit bias because I did request it. I'm super happy I received chocolate though and not vanilla! Oh Best Price Nutrition, how did you know? Protein is one of those misunderstood products that a lot of women brush off as a manly product but you can do so much with it. What I like to do is make some bangin' smoothies! Whey Protein is great especially for vegetarians because we don't get much protein. But it's also great after working out to repair your muscles. Hydrolyzing breaks large proteins down into smaller pieces that are able to get into your system rapidly, enabling your muscles to start rebuilding quickly. There's also no excess fat, cholesterol, or lactose to slow down your progress either. I think this stuff is great and it tastes good too. Add some milk, yogurt, veggies, and fruit and make a deeelicious smoothie!
Size On does things like accelerate protein synthesis and muscle force recovery. It also increases muscle volume and muscle fiber size, cell volume, and plasma amino acid levels. It is also great for recovery but also great while working out. My brother loved the stuff and felt it really helped. This was actually in a fruit punch flavor too which made it a little tasty too!
The 1MR was the only negative in the bunch. My brother tried it out and didn't like it one bit. He mixed it with water and couldn't drink the entire thing because it tasted terrible. He usually drinks protein powder and water alll the time and I think that is gross so if he says 1MR is, I believe him. He also said it made him feel too jittery and shakey. You're supposed to drink this before a work-out to amp you up, but he felt it amped you up a little too much.
Overall though, really great products at really great prices. There is such a huge selection to choose from, too. If you're into working out or just leading a healthy life definitely check this website out.
Buy It!
Head on over to
Best Price Nutrition's website
and browse their huge selection!
Win It!
One winner will win their choice of one of the following:
Perfect Prenatal (Great for hair/nails if not pregnant or trying)
Zyflamend Joint Supplement
Perfect Energy Multivitamin
Perfect Calm Stress Supplement
Women's Multivitamin
Probiotic Immunity
New Chapter Wholemega
1. Go to
Best Price Nutrition's website
and comment on this post telling me what product you'd like to win.
Please answer this question or else your comment will not count! You must do this first or future entries will not be counted.
(1 entry)
BONUS ENTRIES
2. Follow starIMPULSE on Google Friend Connect. (2 entries!)
3. Subscribe by Email and Confirm that Subscription (1 entry)
4. Follow me on Twitter. (1 entry)
5. Tweet about this giveaway and send me a direct link to that tweet, you can do this once a day. (1 entry per day)
6.Subscribe to my YouTube channel. (1 entry)
7. Add my StarIMPULSE button to your sidebar and send me think link to your blog so I can see it. (1 entry)
8. Add StarIMPULSE to your blogroll (using my URL), with a link back to me! (1 entry)
ONE winners will be chosen on March 16th, 2011 at 5:00pm(EST) and then will be emailed.
Alternate winners will be chosen if winner does not respond after 48 hours. This contest is only open to all continental US Residents. Thank you and good luck!
Disclaimer-
I was provided a product in exchange for my review.
You can read more about my blog policies in my disclaimer.
Please click here to vote for me in the Beach Blogger contest!