Hey guys, sorry for the two week break with Meatless Monday! I actually completely forgot about it last week, I'm sorry!
To repay you, here's a crazy delicious recipe that you have to try. A warning though, these zucchini pancakes take a lot of preparation to make, but once you grate and complete all the ingredients it is cake. Also, I had never tried zucchini really ever before but holyyyy crap! These are so delicious and amazing, I am now a super huge fan.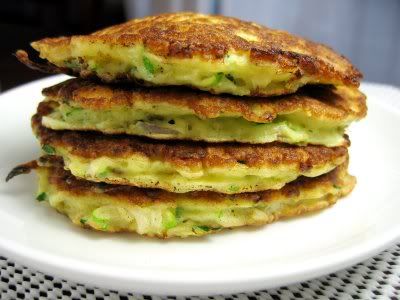 (I took a nice photo but I guess I didn't save it on my phone! So this image taken from
Family Friendly Food
.)
Ingredients:
1 pound tomatoes, peeled, seeded and coarsely chopped
1-1/2 lbs zucchini or summer squash
1 medium red onion
1-1/2 teaspoon salt
2 cloves garlic, crushed
2 tablespoons fresh mint or basil, chopped
1/8 teaspoon ground nutmeg
2 tablespoons grated Parmesan cheese
1/2 cup egg substitute
3 tablespoons flour
Black pepper, to taste
2 tablespoons vegetable oil
Directions:
First, pour the chopped tomatoes and put them to the side.
Next, start on your pancakes. Grate the zucchini and onion, then roll up the grated veggies in a hand towel or a few layers of sturdy paper towels and press gently to remove excess moisture. This takes a while, and it's tempting to take a short cut, but don't skip this step! The excess moisture needs to be removed or the pancakes won't be the right consistency. Combine the pressed zucchini and onion with garlic, salt, fresh mint or basil, nutmeg, cheese, eggs, flour, salt and pepper in a large mixing bowl.
Heat oil in a heavy-bottomed skillet until a drop of water skitters across the surface of the pan. Pour 1/4 cup of the zucchini batter into the hot oil. The batter will be lumpy, so you may want to tilt the skillet to distribute the batter nicely. Let the pancake completely brown on one side then flip to brown the other side. Remove from the pan and place on paper towels (this blots out some of the oil you've used for frying).
When you're ready to serve, just remove the tomatoes from the colander and season lightly with salt and pepper. Serve the zucchini pancakes topped with fresh diced tomatoes.
I actually found this recipe from Meatless Monday's website.
Click here to look over the recipe and nutritional information.