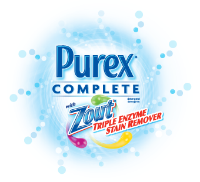 Hey everyone! So my next review is for
Purex Complete with Zout
. Purex Complete with Zout combines the proven performance of Purex detergent with the triple-enzyme stain-fighting power of Zout stain remover.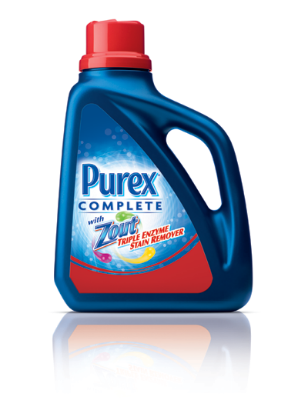 Purex Complete with Zout contains three powerful stain-fighting enzymes. Each enzyme targets a different type of stain:
Protease:
Works against protein based stains such as grass and blood.
Amylase:
Works against starchy stains such as chocolate and tomato sauce.
Mannanase:
Works against guar, which is used as a thickener in may foods like ice cream, barbeque sauce, and salad dressing.
Another great thing about this Purex Complete with Zout is that it works on all washers, reguar and High Efficiency which is awesome! Because we have a high efficiency one so I was able to test this baby out.
I found this detergent to be super easy to use, you know, you just use it like your average detergent. Except unlike your average detergent it leaves your clothes insanely clean getting rid of those hard to clean stains and smelling wonderful. I got to try the Fresh Morning Burst one which left my laundry with a wonderful light fresh scent.
Definitely check it out, especially if you're sick of your regular laundry detergent that just isn't doing your clothes justice.
Buy It!
Purex Complete with Zout is not only tough on stains, but it also costs farless than the leading brand of liquid detergent. It's priced from $3.49 to $7.99 depending on size and retailer. It is available at most retailers lke Walmart, Target and Kroeger.
Get it for Free!
Want to try before you buy? Get a free sample over at
FreeSamplePurex.com
!