Hey everyone! So my next review and giveaway is for the band
He and We
and their new album called "My Forever."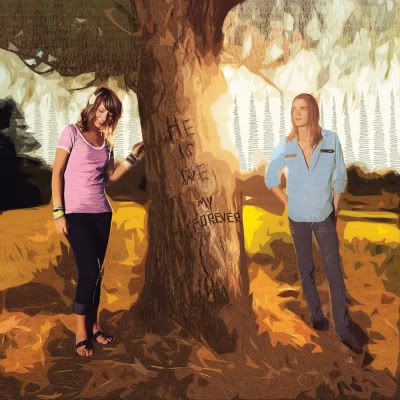 He is We is a great duo that are kind of pop rocky with a nice twist. Their songs are super catchy but in the best way not like that annoying Enrique Iglesias song way. They have a unique sound, especially the lead singer's voice. Her voice is a unique mixture of airy almost raspy and still very light and poppy but with an edgy twist. Also, many of the songs just revolve around her voice and the guitar, which I think it should always be that way.
I was sent their video of their single "Happily Ever After" along with a pitch to review them and I was a bit hesitant. Sometimes there's bands that have really great songs but only a handful -- if that -- and the rest of the album sucks. I was hoping He is We did not fall into that category, and I'm happy to say they were far from it. While their single, "Happily Ever After" is a great song it's not my personal favorite, definitely top 3 though. But the whole album is a great album, you don't have to skip over any songs, they're all great.
My favorite is "And Run" just because it fits my life at the moment. I like "Prove you Wrong" too, that takes my #2 spot. They have great riffs and chorus hooks. I put their album on my iPod right before last weekend and found myself putting their album on repeat on the bus ride to DC. Their songs are just great, some are lovey dovey others are pretty uplifting and sweet.
Overall, I am proud to call myself a He is We fan now and super happy that I had the chance to review their wonderful album. Definitely check them out, especially if you're looking for new music!
Buy It!
Head on over to
He Is We's website
to purchase the album or check out
iTunes!
.
Win It!
ONE winner will receive a copy of the album, My Forever, for themselves!
MANDATORY ENTRY
1. Tell me your own happily ever after story, this could be anything from something romantical or something funny, short or long! (1 entry)
BONUS ENTRIES
2. Follow starIMPULSE on blogger. (2 entries!)
3. Subscribe by Email and Confirm that Subscription (1 entry)
4. Follow me on Twitter. (1 entry)
5. Tweet about this giveaway and send me a direct link to that tweet, you can do this once a day. (1 entry per day)
6. Subscribe to my YouTube channel. (1 entry)
7. Add my StarIMPULSE button to your sidebar and send me think link to your blog so I can see it. (1 entry)
8. Add StarIMPULSE to your blogroll (using my URL), with a link back to me! (1 entry)
ONE winner will be chosen on May 21, 2010 at 5:00pm (EST) and then will be emailed.
Alternate winners will be chosen if winner does not respond after 48 hours. This contest is only open to all US Residents. Thank you and good luck!
Disclaimer-
I was provided a product in exchange for my review.
You can read more about my blog policies in my disclaimer.