Hey everyone! So my next review is for
Nordic Ware
. Nordic Ware is this awesome kitchenware company that has a variety of baking and kitchen products that are fantastic and really well made.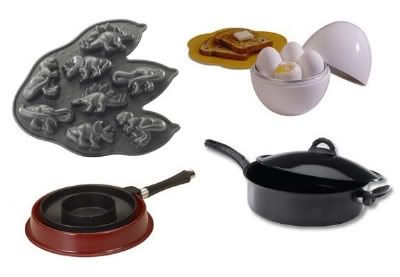 The products I received were:
French Crepes & Wraps Kit
Pro Cast Dinosaur Cakelet Pan
Microwave Egg Boiler
Rangeware 13 inch Jumbo Fryer with Cover
First of all, Nordic Ware is amazing for sending me all of these products, I was like a kid on Christmas when they all came in the mail and couldn't wait to try them.
Crepe maker is definitely not only my favorite out of the four but just my favorite thing in the world right now at the moment. I was super nervous to try and make these crepes, it seemed really intimidating. It comes with a pan and some sort of concave dish and DVDs to follow instructions. But it was super easy all you do is make the batter, pour it into the dish. Heat up the pan. Dip the pan into the batter. Let it sit on the stove for about 45 seconds, don't worry it doesn't drip off. Then the crepe peels off super easily. No stickiness or breaking. Easiest thing in the world to make. I made about 5 crepes the other day, ate 3 gave away 2 to my grandpa and cousin, they loved them. Be sure to check out my crepe recipe next Meatless Monday! But they were pretty beautiful too, beautiful and scrumptious fruit crepes!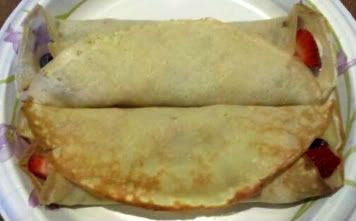 The Microwave Boiler I wanted to get because sometimes hard-boiling eggs is just too much work on the stove for me and you can only put like 2 max. I like to make egg salad pitas sometimes for lunch when I work. This I found super easy, just pop it in the microwave and it heats up 4 eggs so you can have 3 on the backburn. But the boiler ALMOST didn't fit into my microwave, I actually have to tilt it a bit to have it go in, it was a very scary few seconds but I'm glad it fits and I use it almost every week now. The eggs are just as delicious as if they were made on the stove.
The Dinosaur Cakette Pan comes in at a super close 2nd for my favorite thing from Nordic Ware. Mainly for my affinity of dinosaurs. Though it is recommended DO NOT get a lava-cake mix for these pans because then you will come out with something like this: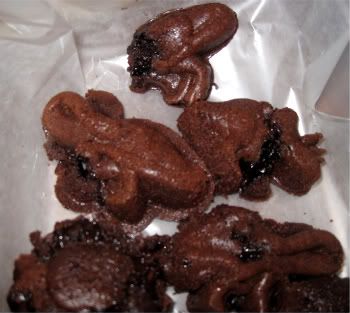 A sad day with food imitates questionable history. Dinosaurs were killed by molten lava. Though it probably is a fact to a certain extent, I'm sure some dinosaurs were indeed killed my molten lava. These little mini-delicious dinosaurs were killed by equally delicious chocolate lava. While I will definitely use this cakette pan again in the near future, I will probably pick a muffin mix to be safe. The pan is very sturdy though and it is SO COOOL that it comes in the shape of a dinosaur foot. I just love dinosaurs and think this is the coolest idea for an item.
Lastly the Jumbo Fryer is very awesome, to be honest I haven't used it yet. It was actually a gift for my mom because she really wanted it but I think she plans on cooking something amazing with it on Easter so we shall seee. It is definitely a well made item though and if you're looking for a Jumbo Fryer definitely peep this.
Overall, to be quite honest Nordic Ware exceeded my expectations. Their items are very well made. Even the microwave egg boiler which is made of plastic you can tell won't break easily. Their items are super easy to use and actually really fun and satisfying to use and see the results. I definitely recommend any of their products you won't be disappointed.
Buy It!
Head on over to
Nordic Ware's website
and browse their fantastic selection. Even if you're not much of a cook (like me) you will definitely find something you'll love! Click on the
Where to Buy tab
and see if they're selling any products near you!
Disclaimer-
I was provided a product in exchange for my review.
You can read more about my blog policies in my disclaimer.