Hey everyone! So my next review is for
Kushyfoot
. You may remember that I did a review for them in the past and you can check out that previous review
here
. Kushyfoot is a company that sells socks but more flats to go. Flats to go are pretty much what they sound like, easy roll-up flat shoes that you bring with you when you know the shoes/heels you're currently wearing will start killing you. And instead of dancing/walking barefoot you can just slip on these great flats.
They updated their line now with more socks and more flats to go just in time for the spring and summer season where you want to wear nice heels or sandals and show off your feet. If you're worried that these shoes might end up hurting, but bring these flats to go as backup!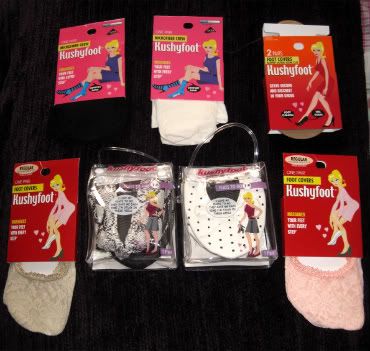 The two styles of the new flats to go are cute. I'm not a huge fan of the polka dotted one so I gave it to my friend but the snakeskin one was really cool and unique. Super comfortable too just like the previous pair I tried of theirs.
I was more excited for the socks though, they're coming out with a lot of really cool and useful socks. The foot covers, lace foot covers, microfiber coolmax trouser socks, and super ultra low cut socks are all awesome. The foot covers and the super ultra low cut socks are great for flats or fancy shoes like heels. They little mini cushions on the bottle of the foot covers are super comfortable. Plus I'm a big fan of these no show socks especially for this time of year, when it gets nicer out you want to wear nicer shoes and don't want to show your socks so these are perfect. The microfiber socks are nice thin socks that keep your feet cool and dry but can look good with a pair of wedges or oxfords, too.
Overall, I really do enjoy these new Kushyfoot products. They are perfect for this time of year plus they're quite reasonably priced too!
Buy It!
Head on over to
Kushyfoot's website
and browse their selection!
Disclaimer-
I was provided a product in exchange for my review.
You can read more about my blog policies in my disclaimer.