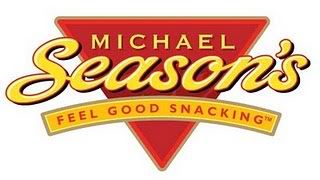 Hey everyone! So my next review and giveaway is for
Michael's Seasons Snacks
. You may recall I reviewed them before and I'm a big fan of their. To see my review of their baked cheese snacks go here
here
and their Mediterranean chips go
here
. This time I'm reviewing their new and delicious Kettle Cooked chips.
The flavors are:
Lightly Salted
Unsalted
Balsamic Vinegar and Sea Salt
Jalapeno
Honey Barbeque
These chips...are insanely delicious! I am not a chip person either, I'd much rather snack on chocolate or baked goods never chips. But I tried them and I literally could not stop eating them, they're so good. They are thicker and crunchier than your average chip which is great because they don't easily break apart and they're not too crumby like a lot of chips are. They're also much less greasy. You don't have to keep wiping your hands. Plus they're 40% Less Fat and Low Sodium. They're also all natural with no preservatives, no artificial flavors, no hydrogenated oils, no msg, and they're wheat and gluten free.
They all tasted so good too, my personal favorite though was the Balsamic Vinegar and Sea Salt just because anything vinegar and oil is my favorite. But the Jalapeno was a great change too. I never really had a jalapeno flavored chip and it was quite good. Not too spicy but a great kick. I'm not a big fan of Honey BBQ but my brother is and attacked that flavor. Lightly Salted and Unsalted were pretty great too, great basics.
Definitely check them out, they're so delicious and my family quickly devoured all five flavors. If your not a chip fan I still recommend trying them out because I'm not a big chip person either but I really loved these. Definitely check out Michael's Season Snacks overall because they have a variety of delicious snacks you're bound to fall in love with something!
Win It!
ONE winner will receive 5 bags of each of the five new kettle cooked flavors, an organic Michael's Seasons organic t-shirt, chip clip, and reusable tote bag!
1. Go to
Michael Seasons website
and tell me what snack you'd like to try in the future.
Please answer this question or else your comment will not count! You must do this first or future entries will not be counted.
(1 entry)
BONUS ENTRIES
2. Follow starIMPULSE on blogger. (2 entries!)
3. Subscribe by Email and Confirm that Subscription (1 entry)
4. Follow me on Twitter. (1 entry)
5. Tweet about this giveaway and send me a direct link to that tweet, you can do this once a day. (1 entry per day)
6. Subscribe to my YouTube channel. (1 entry)
7. Add my StarIMPULSE button to your sidebar and send me think link to your blog so I can see it. (1 entry)
8. Add StarIMPULSE to your blogroll (using my URL), with a link back to me! (1 entry)
ONE winner will be chosen on May 3, 2010 at 5:00pm (EST) and then will be emailed.
Alternate winners will be chosen if winner does not respond after 48 hours. This contest is only open to all US Residents. Thank you and good luck!
Disclaimer-
I was provided a product in exchange for my review.
You can read more about my blog policies in my disclaimer.