Hey everyone! So my next review is for
Lightlife!
Lightlife is a great vegetarian food company that sells a variety of products. From frozen meals to veggie cold-cuts, veggie burgers, and bacon! I was sent a coupon to try any free product of theirs.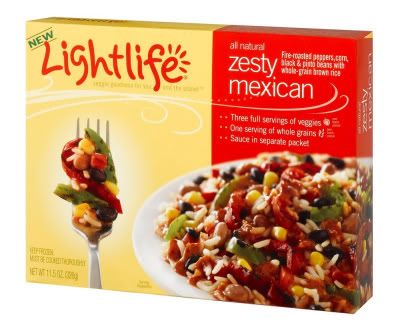 The product I tried was their frozen entree called Zesty Mexican. They are well known for their "Smart" products (Smart Bacon, Smart Chilli, etc) but I saw this meal in the frozen food aisle and it looked so delicious that I had to try it. And it definitely was!
The website description of this meal is:
"There's a fiesta in your mouth, and three full servings of veggies including fire-roasted peppers, corn, black and pinto beans are invited, along with a full serving of whole grain rice. It's a piñata on a plate and the kind of meal you can't wait to break into."
This meal is just soo good! A lot of times frozen food meals sound good because of the description, picture, and calorie count but when you open the box it is so small! But this one was not like that at all. It was an excellent portion and made a wonderful dinner meal. It wasn't super spicy but not spicy enough, I would say the name "Zesty Mexican" describes it wonderfully. For a meal that just consisted of beans and rice and some veggies it was so delicious.
Best of all this nice sized entree was only 330 calories! It also has 11g of protein, which is great for vegetarians because sometimes it's hard for us to get our daily intake of protein without eating meat. Also these yummy beans definitely help us out in the meal.
But their food in general is so awesome, I love that they have such a variety. It's great that there's companies out there like this one that have veggie cold-cuts, hot dogs, and everything so you don't have to worry about not enjoying the meat ones when you can use these great substitutes! Definitely check out Lightlife, you won't be disappointed!
Buy It!
Head on over to
Lightlife's website
to check out their awesome food and check out their
Where to Buy tab
to see where you can buy some Lightlife near you!
Disclaimer-
I was provided a product in exchange for my review.
You can read more about my blog policies in my disclaimer.