Hey everyone! So as promised in the
Nordic Ware Review
here is my recipe for Fresh Fruit Crepes!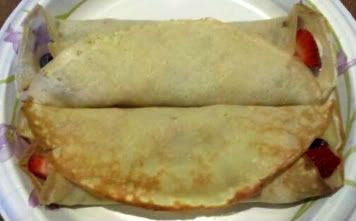 Mmmm!
For the crepe I used a French Crepe recipe:
Ingredients:
1 cup all-purpose flour
1 teaspoon white sugar
1/4 teaspoon salt
3 eggs
2 cups milk
2 tablespoons butter, melted
Directions:
1. Sift together flour, sugar and salt; set aside. In a large bowl, beat eggs and milk together with an electric mixer. Beat in flour mixture until smooth; stir in melted butter.
2. If you have a crepe kit like the Nordic Ware one, you pour the mix into the bowl. Hit the pan for a few minutes and dip it into the batter. Put the pan back on the stove, let the crepe heat up for about 45 seconds and peel off.
But if you don't have a crepe kit, don't worry! You can do it this way:
2. Heat a lightly oiled griddle or frying pan over medium high heat. Pour or scoop the batter onto the griddle, using approximately 2 tablespoons for each crepe. Tip and rotate pan to spread batter as thinly as possible. Brown on both sides and serve hot.
Makes about 5 - 8 crepes.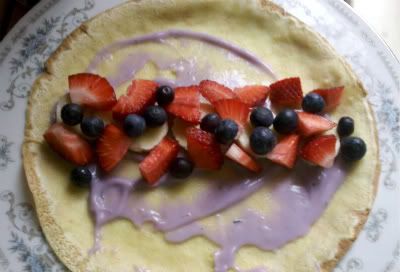 For the inside, here's the ingredients based on filling one crepe.
Ingredients:
1/2 Banana
Half of a handful blueberries
3 large strawberries
2 tablespoons blueberry Light and Fit Yogurt
1. Smear blueberry yogurt around the crepe.
2. Chop up the bananas and strawberries. Add them along with the blueberries to the crepe.
3. EAT!
You don't have to add that amount of filling, to be honest I guestimated and just added however much I wanted. I even added some goat cheese with blueberries that I got from Trader Joe's to some crepes as well. They were pretty amazing.
Head on over here for the nutritional information for the crepe.