Hey guys, so I found a really awesome, really delicious meal to share with you that sounds really fancy and complicated but really is simple and yummy! Baked Indonesian Tofu!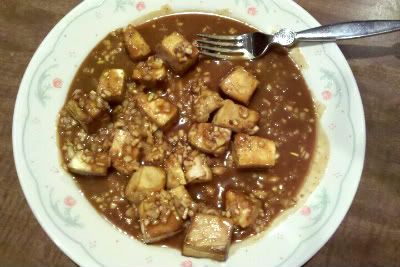 Ingredients:
1 12 ounce block firm tofu, drained and cubed
3 tablespoons low sodium soy sauce
2 tablespoons peanut or cashew butter (I used peanut butter)
2 tablespoons honey
1 tablespoon maple syrup
1 tablespoon lemon juice
1 tablespoon fresh ginger root, chopped
3 cloves garlic, minced
1/2 teaspoon chili powder
1/2 teaspoon sesame oil
2 tablespoons green onions, thinly sliced
Directions:
1. Spear the cubed tofu on skewers. Brush the tofu with 2 tablespoons of the soy sauce and refrigerate for at least an hour. (The skewers are optional, as you can tell, I didn't use them and they tasted equally delicious.)
2. Preheat the oven to 400 degrees.
3. In a medium sized bowl, whisk together the 1 remaining tablespoon soy sauce with the peanut or cashew butter, honey, maple syrup, lemon juice, ginger, garlic, chili powder and sesame oil. Stir the chopped green onions into the blended sauce.
4. Bake the skewered tofu at 400 degrees for 10 minutes, turn over, and bake for 10 minutes more.
5. Brush the baked tofu with the peanut honey sauce and enjoy.
Serves 2 to 4.
This recipe is so good! The sauce is what makes it to be honest. It's very sweet but with a kick of spiciness. I brushed the tofu with the sauce as well as pretty much drowning them in it too. I practically licked the plate clean too because it was sooo good!
For more information on the recipe as well as nutritional information check out
MeatlessMonday.com
.