Hey everyone! So my next review is for
Tommy Moloney's
. Tommy Moloney's is a great company that sells traditional Irish meats and Irish breakfast gift baskets. I received a variety of yummy Irish meats for breakfast to review.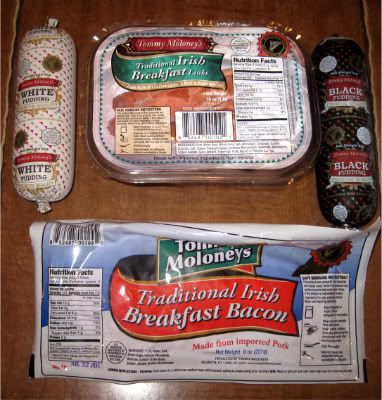 The products I received are:
Black Pudding
White Pudding
Traditional Irish Links
Traditional Irish Breakfast Bacon
As you can tell probably tell, being that my name is Kelly, I'm Irish as is my dad's side of the family. He's actually 100%. So we all enjoy Irish cuisine, and by cuisine I meant potatoes and beer, hahaha just kidding. No but my family are huuuge fans of black pudding, we have it for special occasions and the other products looked equally delicious, too.
I actually am a vegetarian so I didn't get a chance to try them, but my grandma did. I actually made her a little basket and gave it to her as part of her Mother's Day present. She was really excited. I mean who doesn't like receiving edible gifts? I know I love it. Mainly because the main way to win over my heart is through my stomach, haha.
She said the sausage links were very delicious. Easy to cook and great with some maple syrup on top. Better than those frozen sausages you get at the grocery store. The spices and seasonings give it a great taste that makes it like the best sausages. The bacon was great too, not like regular bacon because it's not really thin and crispy. It depends if you like American bacon this is a little different. But the pork rashers were delicious she said.
The puddings were her favorite, specifically black pudding just because she loves black pudding. The white pudding was great, she usually never has it but it's been a while and tasted quite good, better than she remembered it tasting. Both white and black pudding are similar, they're made of pork fat, suet, bread, and oatmeal. But white pudding doesn't include blood. My grandma actually calls black pudding "blood pudding." Don't worry, it's pig's blood, hahaha. But she liked it. The black pudding was great. She was worried because you know nothing is better than going to your butcher and getting it fresh...well that is until she tried these. They were very easy to slice and cook yourself and tasted incredible.
Overall, Tommy Moloney's was really delicious. My grandma loved it, she said it was one of her favorite presents. Definitely check out their website if you love traditional Irish food. They not only have traditional meats but also cheese, Irish soda bread, and big gift baskets. They make perfect gifts like I did but also definitely check them out for yourself. Even if you're not Irish you will love their food!
Buy It!
Head on over to
Tommy Moloney's website
and browse their awesome selection!
Disclaimer-
I was provided a product in exchange for my review.
You can read more about my blog policies in my disclaimer.