Hey everyone! So my next review is for
OPI's latest Shatters
. Oh yeah, you've seen black, you've seen silver, but there's more!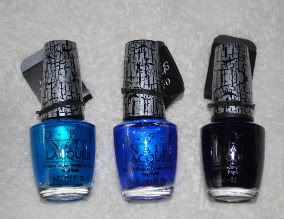 The new shatters are:
Turquoise Shatter
Blue Shatter
Navy Shatter
There's also another new shatter, but it's in a different collection so I'll mention it later. But I love all of these new shatters. They are so awesome. I'm a huge fan of black shatter and silver, so all of these new colors are just so awesome. Mainly because, I know this is going to sound weird, but they make you think. You know silver and black are easy to combine with many other colors but you have to think and experiment with which colors look good with the shatters. Polishing your nails gets tossed off as just a reason to doll up your nails but man, it's fun, it can be art and a great form of expression.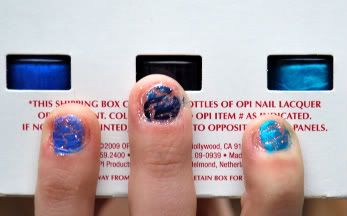 I used Teenage Dream by OPI's Katy Perry line under all three of these and I think it looks lovely. I think shatters work really well with sparkles, but that's just me. I also like the shatters because I feel like they're easier than just normal polish and lacquers. I know you're probably a little confused at that statement, but it's true. Nails with regular polish and lacquers are supposed to be, well, polished. Nice and neat. But with shatters they're supposed to be messy and edgy, so a few little knicks here and there nobody will really notice. Which is great for me because I am so clumsy with polishing nails.
Overall, I am a huge fan of the shatters. You guys know how much I loved the black and silver, well my love continues onto these colors as well. They definitely make your nails stand out and you don't have to be a crazy awesome nail artist to use them. All you have to do is know how to brush and it does the shatter effect for you. Why can't everything be this awesome and easy? Seriously. Hahaha. Definitely check them out! I'm wearing the Turquoise shatter now and within one day had so many compliments on it, yay!
Buy It!
OPI's Blue Shatters Collection at Professional Salons, including Beauty Brands, Beauty First, Chatters, Dillard's, JCPenney, Pure Beauty, Regis, Trade Secret, and ULTA. Or check out
OPI's website
for more info.
Disclaimer-
I was provided a product in exchange for my review.
You can read more about my blog policies in my disclaimer.