Hey everyone! So my next review and giveaway is for
OPI's new Spring 2011 BRIGHTS Collection
made especially for Pirates of the Caribbean: On Stranger Tides. Not gonna lie, when I heard there was going to be a new Pirates movie without Orlando Bloom or Keira Knightley I wasn't very excited. That is, but when I heard OPI was putting out a line especially for the movie, I immediately got excited again. What can I say? I'm a girl and my heart beats for both Orlando Bloom and nail polish.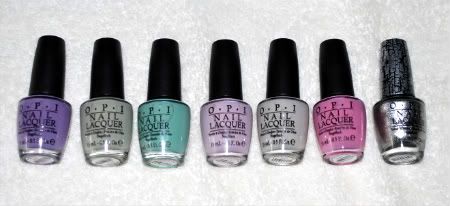 The colors I received are (left to right):
Planks A Lot
Stranger Tides
Mermaid's Tears
Steady as She Rose
Skull & Glossbones
Sparrow Me the Drama
Silver Shatter
Suzie Weiss-Fischmann, OPI's Executive VP and Artistic Director, said that:
"These lacquers were inspired by a world filled with mythical mermaids, gleaming treasure, and high seas adventure. These colors are evocative of a warm tropical setting with a classic nautical influence."
I really love these colors. I feel like they are perfect for Spring. I think every season has its variety of colors, Autumn is known for neutrals, Winter for darks, Summer for brights, and Spring always has very nature and earth tones. These soft pinks and greens are perfect for this time of year.
I decided to switch it up and try the Steady as She Rose color first. I'm not particularly a big pink/red color fan but I liked this one. It's not too pinky, it's nice soft pastel, almost has a tinge or purple in it. It's one of those colors that seems to go with everything, too. I spiced it up but adding a little silver shatter to one of my nails and I really like it. It doesn't pop too much to make it really flashy but just enough to look really great on. The silver is great because it's not super dark like black but still gives the nails a little edge while not taking away from the color. I've already had a few comments on them and I just put it on last night.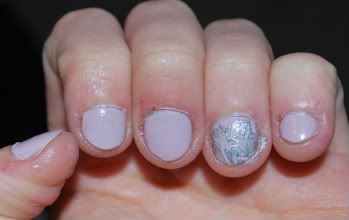 I really love the other colors, too, especially Mermaid's Tears. I am pretty much a sucker for all greens (except like olive green) but this one is so lovely. It's a perfect pastel for spring and will definitely be the next color I try on from this collection.
Overall, I simply adore this collection. It is such a variety of unique colors that are so unique and I've never even really seen before. Pastels are very in right now so this collection is definitely coming out at the right time. I also love how they are reminiscent of the Pirates films but not in the obvious ways like plain old blacks or blues for the sea. Instead they tried invoking the colors and feel of these films, these films are always very green and not loud colors. These colors are very underwater-like and earthy. The colors invoke ideas of seafoam, seashells, sand, etc. It's a perfect line for the upcoming film.
Buy It!
OPI's BRIGHTS Collection at Professional Salons, including Beauty Brands, Beauty First, Chatters, Dillard's, JCPenney, Pure Beauty, Regis, Trade Secret, and ULTA, for $8.50 ($10.95 CAN) suggested retail for each Nail Lacquer. Or check out
OPI's website
for more info.
Disclaimer-
I was provided a product in exchange for my review.
You can read more about my blog policies in my disclaimer.