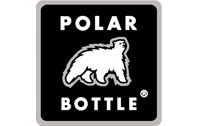 Hey everyone! So my next review and giveaway is for
Polar Bottle.
Polar Bottle is the original insulated plastic sport bottle. It keeps liquids colder longer than other water bottles. They have a selection of awesome styles of water bottles for any person's preference.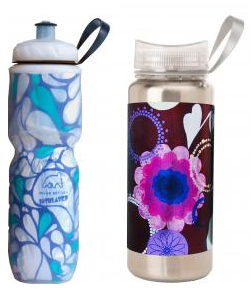 They sent me a box of water bottles to try out some and giveaway others. I tried the original Polar Bottle in a 24 oz and their latest style, the innovative new Half Twist Stainless Steel "Nest" Bottle.
I am a traditionalist. I love the basic pop-top like the original insulated one has. I wish it had a covering over it just to protect from germs, but overall I really like this. I love that it is insulated. There are many times, especially when it gets hot out, I carry around my own water bottles but before I know it my water is too warm to drink! This insulation is such a great idea and it works! It doesn't affect much of the thickness of the bottle either and the bottle is as light as a regular bottle. They're also 100% BPA-free & Phthalate-free, has replaceable valves, is made in USA, compatible with standard bike cages, and is dishwasher safe. It's nice size and I love the style of it, it comes in many super cool colors and styles. You can also customize it! You can put your own design or logo on the bottles if you have a special event coming up or if you just want your own design. Awesome!
Now, the half twist I was very skeptical with. Like how does something like this work without any excess water spilling out? I really didn't believe the idea of it until I tried it. Let me tell you, it works. All you do is tighten up the lid all the way, no need to stress and tighten it as much as you can, just tighten as much as it goes. When you're thirsty, twist it backwards half way and take a sip. It's that simple. Go ahead test it out and flip it upside down when it's shut, nothing comes out! It's awesome. The stainless steel is super durable too! It has a single-wall construction, BPA-free & phthalate-free, Ultra-thick 18/8 stainless steel, Durable, dent resistant & non-corrosive, Odorless, and 100% dishwasher safe. I really liked this one, to be honest I was pleasantly surprised but how easy it is to use and works!
Definitely, check out Polar Bottle they have such awesome, durable water bottles that you can tell definitely last.
Buy It!
Head on over to
Polar Bottle's website
and browse their awesome selection, you won't be disappointed!
Win It!
FOUR winners will receive one of the following a Polar Bottle!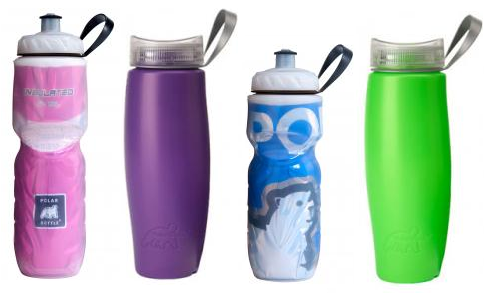 Left to right:
24 Oz. Insulated Polar Bottle in Pink
Half Twist Light Purple
20 oz. Insulated Polar Bottle in Big Bear
Half Twist Light in Light Green
MANDATORY ENTRY
1. Tell me what water bottle you'd like out of the four of them. Keep in mind though, you may not win that one, winner is based at random.
Please do this entry first or other future entries will not be counted.
(1 entry)
BONUS ENTRIES
3. Follow starIMPULSE on blogger. (2 entries!)
4. Subscribe by Email and Confirm that Subscription (1 entry)
5. Follow me on Twitter. (1 entry)
6. Tweet about this giveaway and send me a direct link to that tweet, you can do this once a day. (1 entry per day)
7. Subscribe to my YouTube channel. (1 entry)
8. Add my StarIMPULSE button to your sidebar and send me think link to your blog so I can see it. (1 entry)
8. Add StarIMPULSE to your blogroll (using my URL), with a link back to me! (1 entry)
FOUR winners will be chosen on May 21, 2010 at 5:00pm (EST) and then will be emailed.
Alternate winners will be chosen if winner does not respond after 48 hours. This contest is only open to all US Residents. Thank you and good luck!
Disclaimer-
I was provided a product in exchange for my review.
You can read more about my blog policies in my disclaimer.