Hey everyone! So my next review and giveaway is for
So Delicious
. So Delicious is a really, really great food and beverage company that has a variety of yummy frozen and refrigerated snacks but all are dairy free and all are superr delicious! I've been a fan of theirs for a while, I had their Blueberry "ice cream" a few years back and it was love at first bite. I was sent a few coupons in the mail to check out some more of their products and I did just that.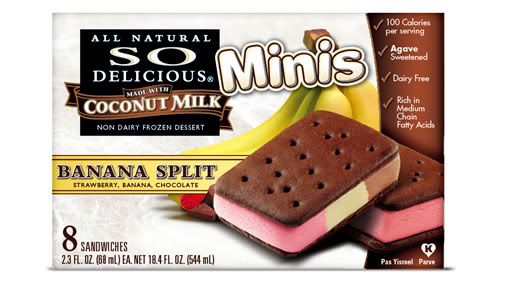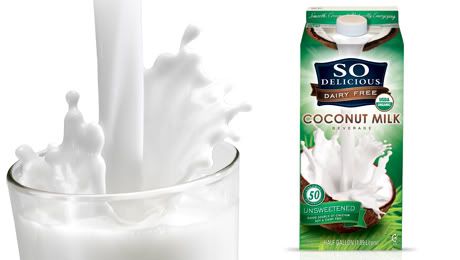 The two products I tried are:
So Delicious Coconut Milk Beverage
Banana Split Minis Sandwich
Both of these are so good! Let's start with the Coconut Milk though. I saw an ad in a magazine for coconut milk one day at work and both my co-worker and I decided we had to try it so I was pumped to finally get the chance to.
I've been drinking Almond Milk for a bit and by drinking I mean adding it to my cereal, coffee, and smoothies, so I figured I'd switch it up to something I'd probably like more. (I'm not a huge fan of Almonds but it's healthy and less calories than regular milk so I switched to that.) And yes, I can actually say Coconut Milk is the winner! It is thinner than regular milk but still has a little sweetness to it, not super sweet, but a nice kick, much better than almond milk. I added it to my Banana Nut Cheerios the other morning and the combo of bananas and coconut just tasted SO GOOD. I purchased the unsweetened one which has just 50 calories per cup. Also 50% vitamin b12, 30% vitamin d, vegan, gluten-free, low-carb, cholesterol free and trans fat free. Definitely one of my favorite dairy-free milks. For a mere 10 more calories a glass compared to Almond Milk it is totally worth it.
Next, the minis "ice cream" sandwiches. I saw these in the frozen food aisle and they looked so good I had to get them. I mean 100 calories per bar? Banana Split flavor? SOLD! I was just hoping that it being dairy free wouldn't make it taste not as good as many dairy ice cream sandwiches. And it definitely did not disappoint!
These mini sandwiches are so delicious! They are quite mini though, coming in at around 4 inches in height. But they taste just like normal ice cream sandwiches. The chocolate, strawberry, and banana flavors in this neapolitan sandwich are so good. These are also made with coconut milk. It's the perfect snack when you're in the mood for something sweet but don't want to ruin your diet. It's only 100 calories! Just as much as a granola bar. There's no GMO and vegan friendy! Definitely worth checking out even if you're not a vegan but especially if you are just because you can't have dairy doesn't mean you can't eat yummy ice cream like this!
That's what I like about the So Delicious company, how they cater to vegans and people with allergies to gluten and dairy so they don't have to miss out on the deliciousness that is ice cream, yogurt, milk, etc. But you don't have to be vegn to enjoy them, they're delicious for everyone. They don't have that gross bitter taste a lot of vegan-only products too. They're so sweet, especially the ice creams and sorbets, I'm sure if you blindfolded someone and asked them to eat some of their "ice cream" they wouldn't know it's dairy free.
Buy It!
Head on over to
So Delicious's website
and browse their amazing selection. Click their
store locator
to find a store that sells them near you!
Win It!
FIVE winners will receive a coupon for a Soy Delicious product of their choice!
MANDATORY ENTRIES
1. Head on over to
So Delicious' website
and tell me what Soy Delicious product you'd like to try with your coupon! (1 entry)
Please do these entries first or other future entries will not be counted.
BONUS ENTRIES
2. Follow starIMPULSE on Google Connect. (2 entries!)
3.
Follow So Delicious on Twitter.
(1 entry)
4.
"Like So Delicious on Facebook.
(1 entry)
5. Subscribe by Email and Confirm that Subscription (1 entry)
6. Follow me on Twitter. (1 entry)
7. Tweet about this giveaway and send me a direct link to that tweet, you can do this once a day. (1 entry per day)
8. Subscribe to my YouTube channel. (1 entry)
9. Add my StarIMPULSE button to your sidebar and send me think link to your blog so I can see it. (1 entry)
10. Add StarIMPULSE to your blogroll (using my URL), with a link back to me! (1 entry)
FIVE winners will be chosen on May 26, 2010 at 5:00pm (EST) and then will be emailed.
Alternate winners will be chosen if winner does not respond after 48 hours. This contest is only open to all US Residents. Thank you and good luck everyone!
Disclaimer-
I was provided a product in exchange for my review.
You can read more about my blog policies in my disclaimer.