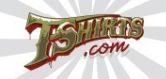 Hey everyone! So my next review is for
T-shirts.com
. T-shirts.com is a really great t-shirt website that has a huge variety of awesome shirts. I received this really awesome Queen shirt from them.
T-Shirts.com sells shirts of all kinds; from Music teesto Movie shirts, and funny t-shirts that should get a laugh wherever you go. One very nice feature on t-shirts.com is that every tee that they sell has a softness gauge so that customers know how comfortable the fabric will be. Be sure to check T-Shirts.com frequently as they are adding new shirts daily.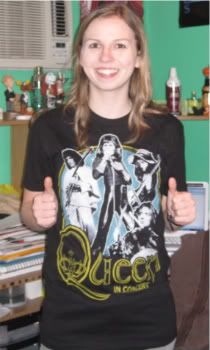 I love this shirt. First off because you don't really see Queen shirts around that often. Second off, I just love the style and look of it. I'm a big Queen fan and I'm a big band tee fan, especially vintage inspired ones like this. It is really comfy, one negative is that some shirts only come in men's sizes which isn't too big of a deal but they only have sizes small and up. This shirt fits me alright but I would've preferred an extra small. No biggie though because it still looks awesome.
I know many of you are wondering "how is this shirt site different from the rest of them?" Well I found a lot more variety on this site than the others. Many other t-shirt sites focus heavily on funny shirts, and while this one does have its fair share of funny ones, it also has awesome band tees like the one above, lots of movie and tv shirts, and just a lot of everything. I found it more difficult for me picking out one shirt on this site I really liked than other shirt sites just because it had such a cool collection.
Another great thing about this site is that you can design your own t-shirt. Everything from the shirt style to its design, you can make your own.
Definitely check out this website, t-shirts are great gifts for either yourself or an actual gift gift and with their huge selection you will definitely find a shirt for everyone on there!
Buy It!
Head on over to
T-Shirts.com
and browse their selection!