Hey everyone! So as promised on my
POM Wonderful review
here's the yummy recipe for POM Pancakes!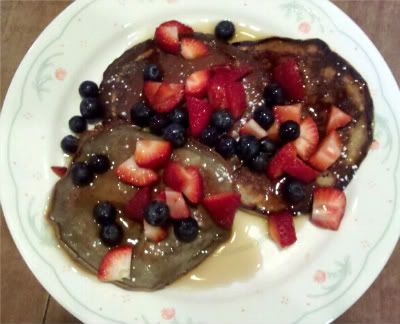 Yup they're a little purple/blue looking because of the pomegranate juice but it doesn't make them less delicious!
Ingredients:
1 cup all purpose flour
1 tbsp. sugar
1 tsp. baking powder
1/2 tsp. baking soda
1 c. POM Wonderful pomegranate pomegranate juice
1 egg
2 tbsp. vegetable oil
Directions:
1.Combine flour through baking soda in a bowl
2. Whisk together pomegranate juice, egg and oil
3. Pour pomegranate mixture into the bowl with the four mixture and beat until combined
4. Spray griddle or pan with non-stick cooking spray
5. Pour batter onto pan in individual pancakes, flipping after approximately 2 minutes
6. Cook until batter is set
7. Top with syrup, powdered sugar, fruit or desired toppings!
These pancakes are soooo delicious! I probably ended up eating more than I should have but it was totally worth it. They're sweet too so you don't have to drown them in syrup like I usually do with pancakes.
Definitely check this out especially if you love breakfast food like me!
I found this recipe from PB Fingers' blog here.