Hey everyone! My next review is for
Elevate My Breakfast!
Elevate my Breakfast are great protein and whole fruit squares that are simply delicious.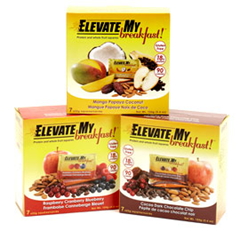 The flavors I tried are:
Raspberry Cranberry Blueberry
Cocoa Dark Chocolate Chip
Mango Papaya Coconut
Creators of the Elevate Me! energy bar launches the Elevate My Breakfast! bars. They're chewy, protein rich, and whole fruit. They're 22 grams, gluten free, 18% pure protein, and 90 calories. I know all of these little factoids make it sound like a gross protein bar but I swear they are really good!
My favorite was the Mango Papaya Coconut. Ever since coming back from Mexico and mango margaritas I have discovered a new love of mangoes. Plus, coconuts are the best. It's a perfect mixture of all of them. The other two come in close seconds though, the chocolate one even has chocolate chips in it!
They're moist not crunchy like most bars out now and they are smaller. To be honest I wouldn't be able to eat just one for breakfast, maybe one and cereal or an egg because I do like my breakfasts. But these are very good even to just snack on. They aren't baked either but coated with yummy fruit goodness.
ELEVATE MY breakfast! squares are sold in a box of 7x 22 gram individually wrapped squares and are conveniently sized to go anywhere you need them, including your gym bag, purse, lunch box, briefcase and even the car.
Definitely check them out, they are so delicious!
Buy It!
Head on over to
Elevate Me!'s website
and browse their yummy protein bars and snacks!
Disclaimer-
I was provided a product in exchange for my review.
You can read more about my blog policies in my disclaimer.