Hey everyone, my next review is for
Tweezerman
. Tweezerman is a great company that has been around for years and has a reputation as an innovator in the beauty industry. Tweezerman originated many of the manufacturing and design innovations that revolutionized personal grooming implements for the professional and consumer markets. Of course one of those great products are tweezers which I was lucky enough to review.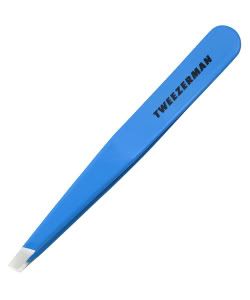 I received the
Blue Jewel Slant Tweezer
.
As the website says, the Slant Tweezer is a
'Best of Beauty' winner chosen by Allure editors for 9 years. Positively the finest general use tweezer in the world - top eyebrow artists always recommend our original, award winning Slant for expert brow shaping. The perfectly aligned, hand-filed tips are slanted to grab every hair, every time with the smoothest, true precision. In classic stainless steel or stainless steel with enamel color finishes. With superior calibrated tension and perfectly aligned, hand-filed precision tips, Tweezerman tweezers close evenly and firmly, creating the cleanest, most advanced pulling power. These are the tweezers you'll own your lifetime — and they come with a free sharpening guarantee.
I really like this tweezer, it's a nice size and I like the angle. I also like the colors it comes it, I didn't get to choose but if I had to I would have definitely picked this blue jewel color. It's nice and bright which makes it pretty easy to find in make-up bags or purses. I also like that it has a little cap on top because the tweezers are pretty sharp and it's nice to have a little lid over them so you don't poke yourself. Also it has a great grip so your fingers won't slip and slide like some others do.
Overall it is an awesome tweezer works really well and you can tell it won't bend or break on you, it is sturdy and will probably last a lifetime. I definitely recommend them, I mean come on they've been around for 25 years they definitely know what they're doing.
Definitely check them out I've seen them around almost everyone and I highly recommend picking one up if you're in need of a tweezer, it does the job.
Buy It!
Head on over to
Tweezerman's website
where you can shop online or find a location near you. For me CVS, Walgreens, Duane Reed, they all sell Tweezerman products.
Disclaimer-
I was provided a product in exchange for my review.
You can read more about my blog policies in my disclaimer.