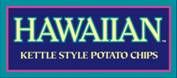 Hey everyone! My next review is for
Hawaiian Snacks Kettle Style Potato Chips
. I feel like I've told you guys this before, but I am not a big potato chip fan. They're always too greasy yet too addicting. But I'm always up for trying different flavors and products so when I heard about Hawaiian potato chips I had to try them out.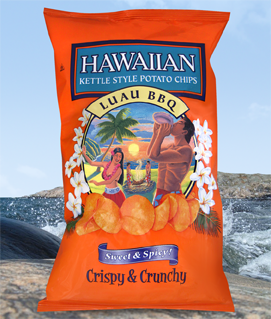 The flavors I received were:
Sweet Maui Onion
Luau BBQ
Luau BBQ:
"The front of the bag boasts Sweet and Spicy but many customers say it is sweet and sassy, either way your taste buds will jump for joy when you bite into this delectable flavor. For something fun, pile these chips high inside your next burger. It's really good!"
I'm not a huge BBQ fan but the bag said sweet and spicy so I tried them. They were pretty good a nice sweet crunch but a spicy kick. Wonderful mix. If you're not a fan of spiciness I don't recommend this though because the after tasted is a pretty hot and spicy kick. As I said before, I'm not a big BBQ fan but this had a nice combo of sweet and BBQ. I didn't eat the whole bag but I gave it to my brother who's a huge fan of BBQ to see if he liked the different taste and he did. But my brother is a huge fan of chips in general hahaha.
Sweet Maui Onion:
"Discover a new world of flavor when you crunch into Hawaiian Kettle Style Potato Chips. These crispy, golden chips are cooked to perfection, then seasoned with just the right amount of Sweet Maui onion flavor. We have combined only the finest ingredients to create a unique chip that captures the freshness and authenticity of the islands."
These were my favorite. It wasn't super onion-y where after you eat them you can still taste them and know your breath just wreaks. It has a nice sweetness to them. The name really does it justice because it does taste like sweet onion, I guess a Maui onion considering it's Hawaiian, haha.
As the website says,
"Open a bag of Hawaiian Kettle Style Potato Chips and you'll imagine yourself sailing on the blue waters of the Pacific, headed toward an island of tropical paradise."
Overall, I really liked these chips. I think being that they were kettle style it made them less oily and greasy. They were crunchy and pretty delicious. I definitely can see myself getting addicted to these babies.
They have an awesome giveaway going on right now, too! From now through August 31, 2011, adult residents of the 50 United States and the District of Columbia are invited to submit an original design for a Hawaiian® Kettle Style Potato Chips t-shirt. The winning design will be made into a cool Hawaiian style t-shirt that people all over the country could be wearing! The winning design, as selected by the general public, will be featured on a t-shirt, which will be available online and in various marketing programs. In addition to bragging rights, the Grand Prize winner will also receive a three-day/two-night trip for two to Hawaii including airfare and hotel stay (ARV $3,100)! Head on over to
Hawaiian Snacks' website
and browse their info!
Buy It!
Head on over to
Hawaiian Snack's website
and browse their yummy selection!
Disclaimer-
I was provided a product in exchange for my review.
You can read more about my blog policies in my disclaimer.