Hey guys! So in honor of the Kitchen Stir, I discovered this yummy recipe in the handy booklet it came with. It's a really easy meal and is great for lunch or dinner. If you love salmon you will love this!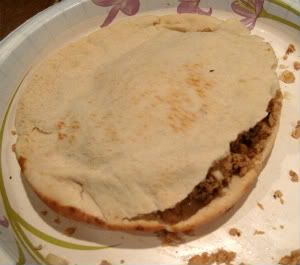 Ingredients:
1 tsp mixed spices; use equal portions of nutmeg, allspice, coriander, ginger, and cinnamon
2 Tbsp oil
2 cup salmon, striped or cubed (I used canned salmon from Costco, and it worked for me!)
1 cup onion, diced
½ tsp cumin
½ tsp paprika
½ tsp dried oregano
2 clove garlic, crushed
½ tsp sugar
½ tsp black pepper
½ tsp salt, to taste
Directions:
1. Mix all ingredients in a bowl and marinate for 10 minutes
2. Preheat 30 seconds
3. Set to 350F; STIR to ON
4. Add all ingredients
5. Cook 4 minutes, or until fully cooked
6. Place in a pita or any type of bread and enjoy!
Serves: 4 - 6?
This is so delicious. It reminds me of a tuna sandwich if tuna was salmon and there was no mayo. It's really delicious. I definitely recommend it. Even if you don't have a Kitchen Stir eating it cold is pretty yummy too!
For more recipes and more information about the Kitchen Stir click here.