Hey everyone! My next review and giveaway is for
Larabar
. Larabars are really delicious snack bars that come in amazing flavors like coconut cream pie, peanut butter and jelly, tropical fruit tart and more. Forget about those boring chocolate chip granola bars and check these babies out!
A blend of unsweetened fruits, nuts and spices, each LÄRABAR is made from 100% whole food, and no more than 2 to 9 ingredients. Their mission is:
"We believe that what you eat is healthiest and most satisfying when it's in a whole, natural state."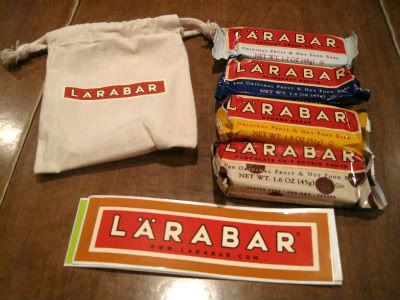 The flavors I received were:

Coconut Cream Pie
Chocolate Chip Cookie Dough
Banana Bread
Blueberry Muffin
These are all so incredibly delicious! They are very moist, soft, and full of flavor. You cal tell that they're natural because you can practically see every ingredient in the bar when you bite into it. At around 100-200 calories per bar, most I noticed were 190, they're a little steep for snacking, but when you know exactly what's going into your body and they're super healthy for you it's worth it. For instance, the chocolate chip cookie dough literally has 4 ingredients: dates, cashews, salt, and chocolate chips. Whaaat? Amazing. They're also a great source of protein (4g in the blueberry muffin bar) and great for special diets. They are Gluten Free, Dairy Free*, Soy Free*, Non-GMO, Vegan*, Kosher.
It's hard to choose a favorite, to be honest, I don't think I can. There's so many different flavors. There's definitely a flavor for everyone.
Chocolate Chip Cookie Dough is a perfect bar to curb your chocolate cravings. Best of all this cookie dough bar contains no butter. The Blueberry Muffin is a delicious mixture of blueberries, cashews and dates with a dash of lemon and vanilla. I'd say it's almost even more delicious than an actual blueberry muffin. The coconut cream pie is a fantastic mix of unsweetened coconut, cashews and almonds provides 6 grams of fiber and a yummy alternative to the original, more decadent delight. Lastly, the banana bread, with its simple, 3-ingredient blend of bananas, dates and almonds, this food provides 6 grams of protein, 5 grams of fiber and 13% of the recommended daily value of Potassium.
These bars make for great snacks on the go or just snacks in general. They are literally just too incredibly good. Definitely check them out.
Buy It!
Head on over to
Larabar's website
and browse their insanely delicious selection. If you like sweet stuff you will love any flavor from Larabar!
Win It!
ONE winner will receive the same 4 bars as I did above!
Mandatory Entry
1. Head on over to
Larabar's website
and comment below telling me what flavor you'd like to try.
Please do these entries first or else your comment will not count! You must do this first or future entries will not be counted.
(1 entry)
BONUS ENTRIES
2. Follow starIMPULSE on Google connect/blogger. (2 entries)
3. Subscribe by Email and Confirm that Subscription (1 entry)
4. Follow me on Twitter. (1 entry)
5. Tweet about this giveaway and send me a direct link to that tweet, you can do this once a day. (1 entry per day)
6. Subscribe to my YouTube channel. (1 entry)
7. Add my StarIMPULSE button to your sidebar and send me think link to your blog so I can see it. (1 entry)
8. Add StarIMPULSE to your blogroll (using my URL), with a link back to me! (1 entry)
9. Blog about this post. Comment below linking me to your blog. (1 entry)
ONE winner will be chosen on June 15, 2010 at 9:00pm (EST) and then will be emailed.
Alternate winners will be chosen if winner does not respond after 48 hours. This contest is only open to all US Residents. Thank you and good luck!
Disclaimer-
I was provided a product in exchange for my review.
You can read more about my blog policies in my disclaimer.