Hey everyone! My next review is for
Rudi's Organic Bakery
. Rudi's Organic Bakery is the only nationally available brand offering a full line of certified organic bread and baked goods. Rudi's Organic Bakery has a long history of baking bread a better and brighter way, by using simple organic ingredients that contain no artificial ingredients, preservatives, high fructose corn syrup or trans-fat. They have a delicious assortment of baked goods from breads to buns to bagels. They sent me a few yummy selections to review.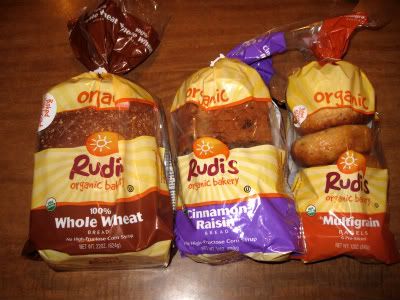 The products I received were:
Cinnamon Raisin Bread
100% Whole Wheat Bread
Multigrain Bagels
These products are so great and delicious. They're so great that parents and children love them. In a recent online poll determining top foods for kids from KIWI, a magazine for parents that promotes healthy family living, Rudi's Organic Bakery tied for first place in the sliced bread category, and Rudi's Gluten-Free Bakery was named one of four 'additional winners' in the gluten-free bread category. In order to select the winners of the 2011 KIWI Awards for Best Kid Food, the magazine surveyed more than 1,000 members of its Parent Advisory Board and Facebook fan base in an online poll.
My favorite is the Cinnamon Raisin bread. It is filled with raisins and doesn't skimp out in the raisins like many other brands. It tastes so fresh and is great as a sandwich, toast in the morning, or even just a snack. So far I've had the bread like three days and have tried them in all those ways. This definitely won't last much longer in my house.
The Whole Wheat is delicious too, not a sweet, but better as a sandwich. So soft and a nice sized slice. Plus I love that it is 100% whole wheat and not says it's whole wheat but has other added ingredients in it like white flour.
The bagels were awesome too. I especially loved the size of them. Usually bagels are GINORMOUS. But these are the perfect size. They're only 160 calories too which isn't too bad for bagels. You definitely don't feel guilty eating these in the morning. Especially because they're muligrain and have a nice protein and dietary fiber count.
Definitely check Rudi's Bakery out. They even have a huge selection of gluten free products as well. If you like bread anything you will definitely love Rudi's. They have so many delicious breads and muffins and more to choose from.
Buy It!
Head on over to
Rudi's Bakery website
to browse their awesome selection. Or click on their
where to buy tab
to find out if a store near you sells them!