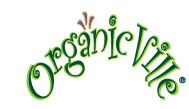 Hey everyone! My next review is for
Organicville's new line of ice cream!
. Organicville is a great company with a variety of yummy organic products for everyone to enjoy. From dressings to salsa, they have a variety of condiments and sauces, but now they have something even more delicious (at least in my opinion, I have a major sweet tooth though), ice cream! I chose a pint of their chocolate and their mint chocolate chip.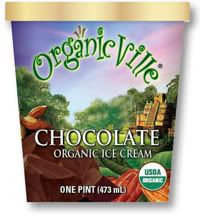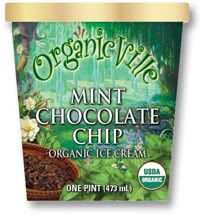 I'm always skeptical with healthy ice cream. They never taste right like they're missing something. But I'm always trying them hoping that I will find one that tastes as good as the originals and I think I found with Organicville ice cream.
These ice creams are so creamy and delicious. The mint chocolate chip has plenty of chips and is as minty as any other mint ice cream I've tried. The chocolate was sweet and so great on a hot day. Added bonus the mint chocolate chip is only 180 calories and the chocolate is only 160 calories per 1/2 cup. I had a Ben and Jerry's pint and that came in at a whopping 320 calories.
Organicville's Ice Cream supports small family farms by using premium organic milk and cream, together with organic mint and the finest chocolate chips. And naturally, Organicville's Ice Cream is certified organic and gluten free.
You guys definitely have to check out this ice cream. It's good for you and tastes so, so good. These pints won't last long in my house, I promise you that. The only negative was that they're a little hard to find. They're sold in Whole Foods but I went to my local one and they didn't have them so I kind of had to hunt for them. Totally worth it though. Though this whole foods only had the basic ice cream flavors, I wish they had their new fancy low fat ice cream like caramel swirl and strawberry banana, I would've hopped on those. It's okay though, it's always nice to go back to your old favorites, too.
Buy It!
Head on over to
Organicville's website
and browse their goodies. This ice cream is sold only at Whole Foods at this time so head on over to
Whole Foods
to check out one near you!
Disclaimer-
I was provided a product in exchange for my review.
You can read more about my blog policies in my disclaimer.