Hey everyone! So my next recipe is for homemade black bean burgers with spicy chipotle spread. Oh man these are just incredible. My mom who is a die-hard carnivore and loves her burgers said to me after eating one of these babies "I enjoyed it [the burger] more than regular burgers. You have to tell me how to make that, it was delicious." So while there may be some questionable recipes here I promise these are worth making.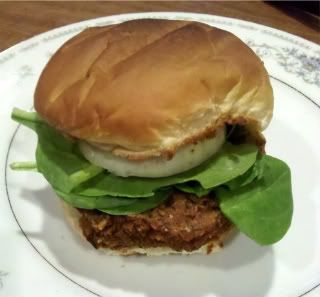 Ingredients:
For the chipotle spread:
- 1/2 cup nonfat mayonnaise
- 1 tablespoon fresh lime juice
- 2-3 chipotle chilies in adobo sauce
- 1 tablespoon adobo sauce from chipotle peppers

For the bean burgers:
- a little oil or cooking spray, to prepare the baking sheet
- 1 14 ounce can black beans, drained and rinsed
- 1/2 red bell pepper
- 1/2 onion, cut into wedges
- 3 cloves garlic, peeled
- 1 egg
- 1 tablespoon chili powder
- 1 tablespoon cumin
- 1 teaspoon salt
- 1-2 teaspoons chili sauce or hot sauce
- 3/4 cup bread crumbs
- 4 whole wheat buns, toasted
Directions:
To make the chipotle spread:
1. In a food processor or blender, combine the mayonnaise, lime juice, chipotle chilies and adobo sauce. Pulse until smooth and well blended.
To make the bean burgers:
1. Preheat the oven to 375 degrees. Prepare a baking sheet with a light coating of oil or cooking spray.
2. In a medium bowl, mash the beans with a fork until they form a thick paste, but retain some lumps for texture.
3. Add the bell pepper, onion and garlic to a food processor or blender. Pulse until finely chopped. Stir the veggie mixture into the mashed beans.
4. Stir the egg, chili powder, cumin, salt and chili sauce together in a small bowl.
5. Stir the egg mixture into the mashed beans. Mix in the bread crumbs until the mixture is sticky and holds together. Divide the mixture into four patties.
6. Place the bean patties on a baking sheet and bake for about 10 minutes on each side.
7. Spread a thin layer of the chipotle mayonnaise over the toasted buns. Place a bean burger and your favorite burger veggies on one toasted bun. Close with the other bun and enjoy.
Serves: 4
I actually got the whole family to eat these burgers which is amazing because I'm the only vegetarian and they're hardcore meat eaters. But they all enjoyed them, especially my mom like I said. The sauce is super spicy, a little goes a long way. My brother and dad weren't into the sauce by my mom and I loved it.
For more information on the recipe as well as nutritional information check out on
MeatlessMonday.com