Hey everyone! My next review and giveaway is for
Artisana Foods
. Artisana Foods is a great company that has pretty much the most delicious nut butters in the world. They have almost every type of nut created into butter and they're incredible. Period.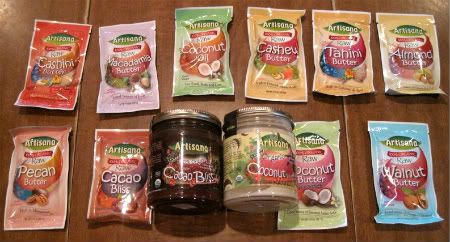 I received two large jars of
Cacao Bliss
and
Coconut Butter
. But I also received single serving packets of all the rest of their flavors which are:
Coconut Oil
Almond Butter
Cashew Butter
Pecan Butter
Macadamia Butter
Tahini Butter
Cashini Butter
Walnut Butter
These were just so good, I loved that I got the chance to love them all. As much as I do love peanut butter it's fun to experiment and try other nut butters. I was a little disappointed with the Cacao Bliss and Coconut Butter with their consistency. The oil I guess separates easily from both of them and they get super liquidy. The Cacao Bliss made up for it though just because it's pretty much the most delicious butter in the world. It's basically a chocolate coconut butter and tastes as amazing as it sounds. I ate this solo a lot just when I wanted a quick snack, but it's also great on bananas and anything. The coconut butter was okay, a little disappointed because it was really too liquidy for me.
The rest though had some pleasant surprises. My favorite aside from the cacao bliss turned out to be the pecan butter. Oh my god. The consistency was perfect and tasted sweet and thick. I ate it with apples on a sandwich, which I did with a lot of these mainly because I needed a lunch for work haha and it was perfect. Some were good with the apples but kind of bland solo like the cashew and cashini. But this pecan was perfect alone just dipping your finger into, too. The walnut was also incredible. I noticed though, I'm a huge fan of pecans and walnuts in general so that's probably why I really loved these butters. So if you are a fan of a particular nut, I definitely recommend trying one of these nut butters out. The coconut oil was pretty great too, I used it in smoothies to give it a nice coconut kick.
Artisana is also great because they're made with 100% certified Organic nuts, seeds, and coconut meat which means no toxic pesticides, chemicals, or genetically modified organisms. They're also don't add any extra ingredients. No salt, sugar, preservatives or artificial flavors - Nothing. Which means that all you get is the clean, fresh taste of nuts and seeds the way nature intended.
Also these nut butters are great for people that are allergic to peanuts and can't experience the amazingness that is peanut butter because they're peanut free, they're also kosher and gluten free, too!
Definitely check out Artisana Foods, their nut butters are just awesome. If you love peanut butter or nuts or chocolate or coconut or just trying new things you need to try these, they do not disappoint!
Buy It!
Head on over to
Artisana Foods' website
and browse their awesome selection, then click on the
Buy It Now
tab to see where you can purchase them online!
Win It!
ONE winner will receive a jar of nut butter of their choice as well as some single serving flavors, too!
1. Head on over to
Artisana Foods' website
and tell me what flavor you'd like to have in the jar. Please answer this question or else your comment will not count! You must do this first or future entries will not be counted. (1 entry)
BONUS ENTRIES
2. Follow starIMPULSE on blogger. (2 entries!)
3. Subscribe by Email and Confirm that Subscription (1 entry)
4. Follow me on Twitter. (1 entry)
5. Tweet about this giveaway and send me a direct link to that tweet, you can do this once a day. (1 entry per day)
6.Subscribe to my YouTube channel. (1 entry)
7. Add my StarIMPULSE button to your sidebar and send me think link to your blog so I can see it. (1 entry)
8. Add StarIMPULSE to your blogroll (using my URL), with a link back to me! (1 entry)
ONE winner will be chosen on July 29th, 2011 at 5:00pm(EST) and then will be emailed.
Alternate winners will be chosen if winner does not respond after 48 hours. This contest is only open to all US and Canadian Residents. Thank you and good luck!