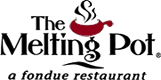 Hey everyone! My next review and giveaway is for the restaurant
The Melting Pot
. The Melting Pot is a fondue restaurant that consists of four courses so be prepared to eat! I got the chance to review their limited time
Big Night Out Latin Fusion menu
which was deeelicious!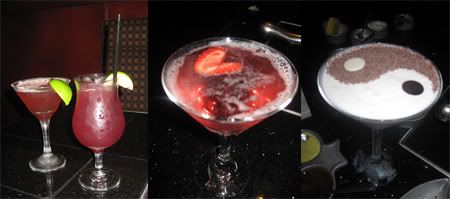 For the drinks we tried a total of 4: Blackberry Margarita, Cosmo, Love Martini and the Ying Yang. My least favorite was the Cosmo but it was the other person's drink not mine and she enjoyed it. The love martini was pretty good, a little sweet, not too strong and has a heart shaped strawberry floating atop. The Blackberry margarita was incredible, so delicious especially if you're craving margaritas. But if you want to try something completely different, try a Ying Yang. The presentation of the drink is amazing, with chocolate shavings and chocolate dots on top. It's basically an ice cream shake with alcohol. It's not too strong but tastes delicious and is really pretty, I had a hard time drinking it because I didn't want to ruin it, haha.
The first course is usually the Queso Fundido which is a fondue twist on the Mexican dish, but it had crumbled Chorizo in it and I'm vegetarian so we opted for the Fiesta cheese instead to try and stick to the latin spiciness.
"The Fiesta cheese is cheddar cheese with lager beer, jalapeño peppers and salsa made as spicy as you like. It comes with bread, apples, veggies, and chips as dippers."
It was insanely delicious. The apples as dippers was a little weird but I loved the cauliflower and veggies, nothing beats dipping bread and cheese though. We had it medium spicy and it just tasted amazing. It was the perfect combination of cheesiness and spiciness.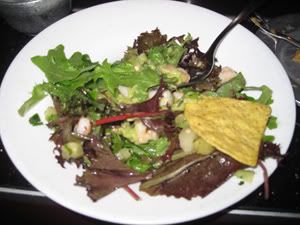 The second course was a salad, the Big Night Out salad was Shrimp Ceviche.
"The shrimp ceviche salad is a refreshing blend of citrus-marinated shrimp atop avocado puree and tortilla chips served with tropical fruit pico de gallo puree and a side of mixed greens tossed with lime vinaigrette."
This salad was delicious but, not really what it sounds like, I received one tortilla chip and I couldn't find the pico de gallo, the avocado puree and mixed greens are kind of combined. It was a delicious salad, a bit small, but perfect considering all of the food we were consuming. I loved the lime dressing, it was perfect for a shrimp salad and the avocado was amazing.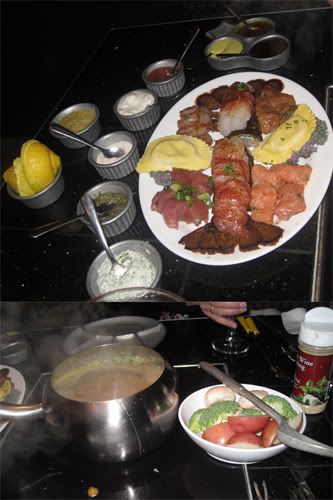 The main course we opted for the Lobster Indulgence which consists of
"2 Cold-Water Lobster Tails, Chimichurri Sirloin, Garlic Piri Piri Shrimp,
Mole-Marinated Chicken Breast, Citrus-Marinated Pork Tenderloin,
Fire-Roasted-Corn-Salsa Ravioli."
We actually opted for salmon instead of sirloin because I'm vegetarian and my mom, who I took, isn't big on sirloin. It was pretty delicious. The main course is fondue too. You pick the broth you want, we chose mojo which is
"caribbean-seasoned bouillon with a distinctive fresh-garlic flavor and a citrus flair"
and you dip all of your meats, seafood, and veggies into the broth, and let them cook. This usually takes about 2 minutes. Then you scoop them out with a spoon and use one of the many sauces they give you, there was like 12 of them there were so many, sauce it up and eat. It's a little bit of work but still fun. Sometimes it was a little annoying trying to search for a small piece of salmon or chicken, but it was pretty entertaining. The greek goddess sauce was really great on the veggies as was some other white dressing. There was a sweet and sour sauce I found tasted well with the salmon, salsa was great with the shrimp, and of course lemon for lobster. The presentation of the food is really lovely, the lobster tails are on top of the shells and it just looks very pretty. The food was great too.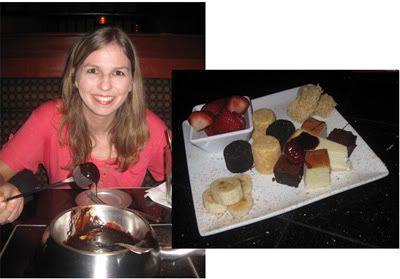 The last course, of course, was the best. The Big Night Out was Dark and Dulce, a
"classic flavor combination featuring our bittersweet dark chocolate and sweet, thick dulce de leche accented with coarse sea salt"
. It was absolutely incredible and the dippers were amazing. It looks like a little bit but after eating practically everything (we left like 2 pieces of rice krispie treats) our stomachs were hurting, haha. Totally worth it though. Nothing like chocolate fondue to top everything off. They had marshmellows that were encrusted in some sort of like oreo stuff that was amazing, brownies, cheesecake, oh just thinking about it again now makes me hungry again! Best dessert in the world, literally.
Overall, The Melting Pot was a nice experience, really fun. But if you like to relax and just chill out and wait for a prepared meal I don't recommend it. You have to work for your food. I really liked it. I liked how they created the cheese in front of you and the presentation of the dish and billion sauces, haha. It is a little pricey, one meal for two people costs around $100 but it is a lot of food, I'm sure if you had to pay separately for each course at another restaurant it would be the same price. Drinks are around $10 but that's typical. The atmosphere is nice too, it wasn't too loud or anything. I do recommend trying it out, it seems like it could be fun for a date night or with a lot of friends too.
Buy It!
Head on over to
Melting Pot's website
to find a local one near you! Also check out their menu and drool, haha.
Win It!
FIVE winners will receive 1 $20 Dip Gift Certificate valid at one of these three locations: Darien (CT), Westwood (NJ) and White Plains (NY).
1. Head on over to
Melting Pot's website
and tell me what food you're most excited to eat! Please answer this question or else your comment will not count! You must do this first or future entries will not be counted. (1 entry)
BONUS ENTRIES
2.
Follow The Melting Pot on twitter.
(1 entry)
3.
Like The Melting Pot on facebook.
(1 entry)
4. Follow starIMPULSE on blogger. (2 entries!)
5. Subscribe by Email and Confirm that Subscription (1 entry)
6. Follow me on Twitter. (1 entry)
7. Tweet about this giveaway and send me a direct link to that tweet, you can do this once a day. (1 entry per day)
8.Subscribe to my YouTube channel. (1 entry)
9. Add my StarIMPULSE button to your sidebar and send me think link to your blog so I can see it. (1 entry)
10. Add StarIMPULSE to your blogroll (using my URL), with a link back to me! (1 entry)
FIVE winners will be chosen on August 10th, 2011 at 5:00pm(EST) and then will be emailed.
Alternate winners will be chosen if winner does not respond after 48 hours. This contest is only open to all US Residents. Thank you and good luck!