Hey everyone! So my next recipe is for cheesy zucchini pizza! It's so delicious, perfect for any family! My parents really loved it, too!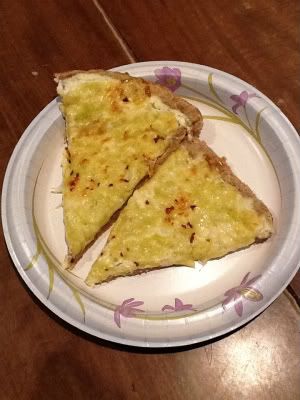 Ingredients:
Whole-wheat pizza dough
2 large zucchini
2 c. part-skim shredded mozzarella cheese
sea salt
pepper
1 c. part-skim ricotta cheese
2 cloves garlic, minced
red pepper flakes (optional)
Directions:
1. Heat oven to 500°F. Dust cornmeal or use cooking spray on baking sheet or pizza stone.
2. Grate zucchini and press with paper towels to soak up excess liquid. Mix zucchini with mozzarella and a dash of salt and pepper.
3. In a small bowl, combine ricotta and garlic. Season with salt and pepper to taste.
4. Roll out pizza dough. Spread ricotta on top; add zucchini mixture. Add red pepper flakes to taste. Reduce oven temperature to 450°F and bake about 12 minutes, or until the crust begins to turn golden and the cheese bubbles.
Serves: 8
My pizza didn't come out as pretty as the website's but it was still delicious, I promise you. Usually white pizzas are too dry for me but this was perfect, the zucchini was a great way to make it moist and sooo good!
For more information on the recipe as well as nutritional information check out on
Vital Juice.