Hey everyone! My next review is for
Clarsskin
. Clarsskin Underarm Cleanser is a specialized underarm cleanser designed to gently and efficiently remove all traces of antiperspirant/deodorant residue. The first product to define the true meaning of clean.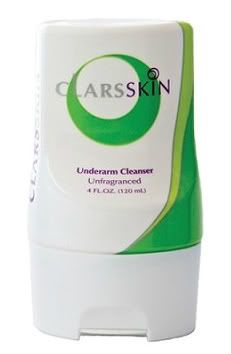 I know what you're thinking, is it really necessary to have a special soap for under your arms? Well we all know deodorant is pretty sticky and stays up there a while, so this really does make it easier to have a nice clean and fresh underarm. Sometimes while shaving I used to see pieces of white stuff and just assumed it was soap, apparently it was deodorant which is pretty gross and that doesn't happen with this!
Not only is it great to get rid of that gross cereal. Sometimes when I just use soap and shave it kind of irritates it. But I noticed this lathers up nicely and makes shaving a more comfortable experience.
I like the shape of it, how it looks like deodorant but it doesn't really rub on. You have to squirt it and rub it in with your hand.
I also got the unscented because you know I felt your arm pits stink enough whether it be with deodorant or um, other reasons, and I like it. It smells soapy but clean and good!
Overall, it's a pretty cool product you don't really give arm pits much love, so you might as well give it some nice and clean love! They actually have a really funny video on their website that gives you all the deets of why you should try it and it's definitely worth a watch so
check it out!
Buy It!
Head on over to
Clarsskin's website
and purchase either unscented or scented!