Hey everyone! My next review is for
Fraas
. If you recall they sent a scarf and shawl to me in the past, now they sent me a combination of the two of them!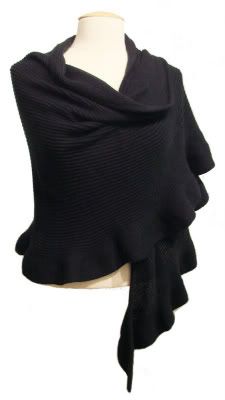 This combination scarf/shawl is really, really cool. I'm going to go out and say it's definitely my favorite Fraas product so far. It's huge and covers your body so well and is super warm. Lately, the east coast has been getting quite the cold wave and, as I just received this yesterday, I've been rocking out with it on allll yesterday and today. It is so incredibly warm, soft, and all-around cozy.
This is a perfect addition to add to your new fall accessories. It's a great switch from the regular scarf. It's in the shape of a small cape, which I think is really cool and unique, but you can still wear it around your neck, across your shoulders, however you usually wear scarves. It'll keep you nice and warm. I also love that it's in black because it goes with practically everything. I just love basic colored scarves because it's easier to wear them with everything. Usually when it's winter I'm too cold and tired to color coordinate, haha.
What's great is that Fraas has accessories for both men and women, what's not so great is that they're German and it doesn't look like their very available around the US only online. But they have a huge variety of scarves for both men and women, definitely check out their website!
Definitely check them out! I haven't seen this scarf/shawl online anywhere, but keep on the lookout because this one is sure to go fast!
Buy It!
Head on over to
Fraas' website
and browse their selection or
Amazon.com
.
Disclaimer-
I was provided a product in exchange for my review.
You can read more about my blog policies in my disclaimer.