Hey everyone! My next review and giveaway is for
TheraBreath
. TheraBreath is known for creating great dental products like toothpaste and mouthwash to fight
bad breath
,
canker sores
, and dry mouths.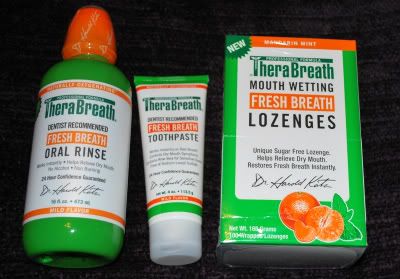 The products I received are:
Fresh Breath Oral Rinse
Fresh Breath Toothpaste
Mouth Wetting Fresh Breath Lozenges
As the website says:
"TheraBreath is a revolutionary premium oral care system created by Doctor Harold Katz at the California Breath Clinics. The exclusive, original formula went on the market in 1994 and has been used by over 1,000,000 people world wide to solve the problems of bad breath and unpleasant mouth taste."
Now, let me start this off by first saying I don't really have a major problem with bad breath. I do have morning breath sometimes though, but my breath usually doesn't smell that bad. I'm just always open to check out products for everyone. Plus I do enjoy my onions on occasion (like last night, haha). So it's nice to have a back up system in case my breath does reek.
I was pretty worried trying this products because I'd imagine a product that cures bad breath probably doesn't taste delicious so I did put it off a few days. I have a weird gag reflex with things that I expect to taste like a certain flavor and ends up tasting different. Like toothpaste I expect to taste like mint but if it's fruity I gag. Weird? Maybe. So I prepared myself for this stuff and you know what? Not bad. Definitely not minty but not a bad taste, not like delicious, but it's mild and very manageable. I didn't gag at all and it really does get rid of bad oniony breath, take it from me.
From the toothpaste to the rinse to even the lozenges, TheraBreath really has thought of everything. I really like the lozenges because they're great for on-the-go where your toothbrush isn't easily accessible. Toss some in your purse for emergencies, that's what I did!
If you have bad breath or dry mouth or if you just want to keep these as back ups for when you do eat something a little too powerful, TheraBreath is definitely worth checking out!
Buy It!
Head on over to
TheraBreath's website
and browse their selection! Click on the
Where to Buy
link to see where they sell it near you!
Win It!
ONE winner will win a TheraBreath toothpaste and a TheraBreath Mouth Rise!
1. Head on over to
TheraBreath's website
* and tell me something you learned from the site.. Please answer this question or else your comment will not count! You must do this first or future entries will not be counted. (1 entry)
BONUS ENTRIES
2. Follow starIMPULSE on blogger. (2 entries!)
3. Subscribe by Email and Confirm that Subscription (1 entry)
4. "Like" Star Impulse on Facebook. (1 entry)
5. Follow me on Twitter. (1 entry)
7.
Follow TheraBreath on twitter.
(1 entry)
8.
"Like" TheraBreath on Facebook.
(1 entry)
9. Tweet about this giveaway and send me a direct link to that tweet, you can do this once a day. (1 entry per day)
10.Subscribe to my YouTube channel. (1 entry)
11. Add my StarIMPULSE button to your sidebar and send me think link to your blog so I can see it. (1 entry)
12. Add StarIMPULSE to your blogroll (using my URL), with a link back to me! (1 entry)
ONE winner will be chosen on October 3rd, 2011 at 5:00pm(EST) and then will be emailed. Giveaway is open to all US Residents. Thanks and good luck!
Disclaimer-
I was provided a product in exchange for my review.
You can read more about my blog policies in my disclaimer.