Hey everyone! My next review and giveaway is for something super, super awesome a
SodaStream
! Not sure if you guys know what a SodaStream is but it's frequented the blogosphere a lot. It's a soda maker and it's awesome.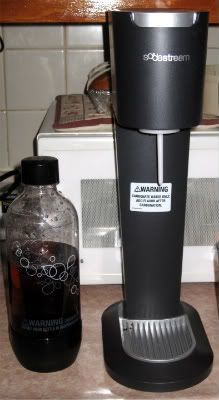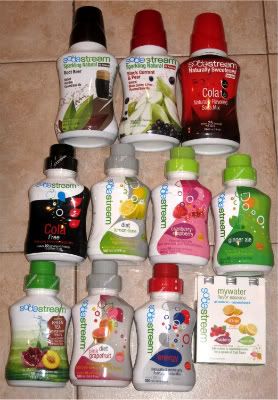 I was hesitant with contacting SodaStream because I'm not a huge soda fan so I didn't want to review something I kind of didn't like. But I do live with a lot of soda drinkers so I figured why not, I can base it on their opinion. Turns out I was wrong.
Way wrong.
I'm not going to base it on their opinions but my own because oh my goddd, this thing is incredible! I was wary about how it's used but literally all you do is press a button, pour some syrup in and BAM deeelicious soda! You don't even have to use any batteries or plug anything in, it is awesome!
The assortment of soda is crazy pretty crazy too. Crazy awesome! Literally a soda for anybody in the world even a non-soda drinker because they have Green Tea flavored, Black Currant Pear, even flavored water flavors. They even have energy soda, Cola Free (like Coke Zero), pretty much any flavor soda under the sun. Soda flavors I never even knew existed!
It's also really great for the environment. I comes with two reusable bottles that you can fill up with soda so you don't have to keep buying liters and cans. And without using electricity sure helps make your carbon footprint a little bit smaller, too.
Overall, this machine is absolutely incredible. I'm moving to California aka cross country in about 30 hours and I don't know how but I know that this machine is definitely going to find some way to fit into my car because I am NOT parting with it. Once you've had a taste of the fizz man you just can't go back!
Definitely, definitely check out SodaStream, I was so amazed but how awesome it is. Even if you're not a huge soda fan like me, personally I probably won't use the coke one (unless I get some rum somewhere, hahaha just kidding...maybe) but I will use the billions of other fruity and flavored water ones. It is just amazing.
Buy It!
Head on over to
SodaStream's website
and browse their selection of sodas and the machines. Or check out their
Win It!
ONE winner will win a SodaStream Fountain Jet Soda Lover's Start-Up Kit (approx. $100 retail value.) It includes the your choice of black/silver, white or red/silver Fountain Jet, CO2 to make over 100 liters of soda, 2 reusable carbonating bottles, a sample pack of flavors, and 3 full-sized flavors of the winner's choice.
1. Head on over to
SodaStream's website
and tell me what three sodas you're most excited to try and what color SodaStream you'd like. Please answer this question or else your comment will not count! You must do this first or future entries will not be counted. (1 entry)
BONUS ENTRIES
2. Follow starIMPULSE on blogger. (2 entries!)
3. Subscribe by Email and Confirm that Subscription (1 entry)
4. "Like" Star Impulse on Facebook. (1 entry)
5. Follow me on Twitter. (1 entry)
6. Tweet about this giveaway and send me a direct link to that tweet, you can do this once a day. (1 entry per day)
7.Subscribe to my YouTube channel. (1 entry)
8. Add my StarIMPULSE button to your sidebar and send me think link to your blog so I can see it. (1 entry)
9. Add StarIMPULSE to your blogroll (using my URL), with a link back to me! (1 entry)
ONE winner will be chosen on October 10th, 2011 at 5:00pm(EST) and then will be emailed. Giveaway is open to all US Residents. Thanks and good luck!
Disclaimer-
I was provided a product in exchange for my review.