Hi everyone! My next review is for
Kushyfoot
. You may remember that I did few reviews of them in the past and you can check them out
here
.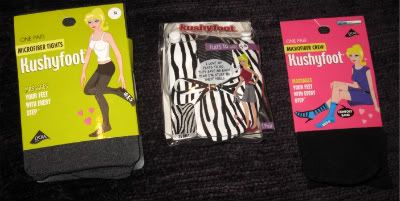 This time they sent me three super cool items to check out:

Kushyfoot Zebra shoes
Kushyfoot Grey Microfiber tights
Kushyfoot Black socks
I think these three items are my favorite Kushyfoot items so far. First of all I love all things animal print whether it be zebra or cheetah -- what can I say? I'm a Jersey girl. And these are kind of velvety and just super comfortable. I have cheetah flats now I can totally use these for zebra ones. They're great for sore feet after wearing heels but you can totally rock them as regular flats too.
The tights are awesome, plain old grey tights are kind of hard to find nowadays. I've been looking for them and I see a lot of light colored grey but not like a nice dark grey. These are perfect. Plus they have a 3-dimensional massage on the sole of your feet, so wearing them feels even comfortable and you do have a nice kushyfoot!
Same thing with the black socks. Who doesn't need black socks? Seriously. I actually don't have that many and really needed a pair for job interviews and such. I have wacky colored socks and them with business pants just doesn't look right, you know? So these are perfect for office attire. Plus again, they have that massage built in so your feet feel super comfy if you're wearing heels or flats for interviews, like me.
Overall, I love these guys. They're so comfortable and make great gifts, especially with Christmas coming in a few months. Definitely check these out, whether you want to give them as a gift or as a gift for yourself.
Buy It!
Head on over to
Kushyfoot's website
and browse their selection!