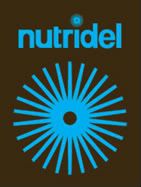 Hey everyone! My next review is for
Nutridel Cookies
. As the website says:
"NUTRIDEL is an artisan, gourmet cookie, made by hand in small batches with all-natural, earth-loving high quality ingredients. Our cookies contain no animal or dairy products. They are baked to perfection, and the result is a crispy, crunchy snack you can enjoy any time with guilt-free pleasure!"

The cookies they sent me were:
Oatmeal cookies
Flaxseed Cookies
Pecan Cookies
Almond Cookies
I know what you're thinking, not the most appetizing looking cookies. They're flat and not pretty, they look like really healthy cookies that taste not so good. But I promise you, they taste really good. If you're a big fan of nuts, I am, these are really nutty cookies. Even with the oatmeal which tasted delicious and like oatmeal but oatmeal with a nuttiness to it. They're made with all natural nuts, seeds, grains. They also left out dairy products and any ingredients of animal origin. They're vegan friendly too!
Some more great things about them is that they're a great source of fiber, omega 3's, preservative free, no refined sugars, no trans fat, no cholesterol. Basically they are like those gross healthy cookies but without the gross part!
My favorite were the pecan cookies just because I am OBSESSED with pecans but they're always really expensive or sometimes even hard to find. But these tasted delicious. Two cookies came in one pack and usually I would eat one at a time to savor them but I just couldn't with these, they were tooooo good.
I also think their name is really cute. It's a take on NUTritious and DELicious. How clever is that!
Overall, I was really impressed with the cookies. They were super delicious and definitely a nice twist than the super sugary cookies out now. Definitely check them out!
Buy It!
Head on over to
Nutridel's website
and browse their awesome selection.