Hey everyone! My next review is a bit early, but it's for
Nicole by OPI's new Holiday Glitters
. I've done several reviews for OPI and Nicole by OPI before and you can check them out
here
. I know it's not even Halloween yet but it's a good idea to start prepping for the holiday season super early especially with your nails. OPI sent me all four of their latest limited edition Holiday glitters.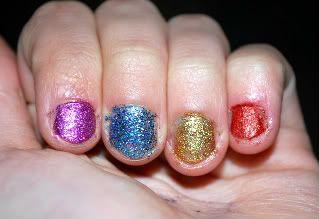 The colors in this line are:
Glitter In My Stocking
: Gold and glittery color.
My Sleigh's in the Shop
: A mesmerizing magenta.
Orna-ment for Each Other
: Tomato-red twinkle!
Snow-man of My Dreams
: Rainbow-packed blue.
These are all really great colors. I love that they're glittery but not too transparent. You can either wear them solo as regular polish or put them over your base coat to add some pizazz!
The names are so cute and their great for the holidays but you can honestly rock them anytime. Especially the purple/magenta colored one makes a great addition to a Halloween costume. The red is perfect for Christmas. My favorite though is the magenta and blue, I tend to prefer purples and blues and they would look great under a black or silver shatter. Even the purple and navy blue shatters would look great over them,
They're not crappy glitters either that flake everywhere but then again why would it be? It's OPI and they always are known for having great polishes. Definitely check them out, you don't have to wear them for just the holidays, they're perfect glitters for all year round.
Buy It!
Head on over to
OPI's website
and browse their awesome collection. These limited edition Holiday Glitters will be available November 2011 for $7.99 each in the U.S. at HEB, Sears, Stage Stores, select Target locations, Target.com, and ULTA. In Canada, lacquers will be retailed for $10.99 each in Shoppers Drug Mart, Loblaw and Zellers.