Hey everyone! My next review is for
Scandle Candle
. Scandle Candle is a really awesome company that sells special candles. They combine massage oils or body lotion and candles to create such fantastic products.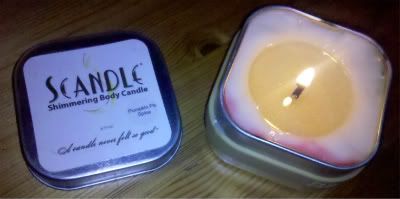 I received their limited edition Shimmering Lotion Travel Candle in Pumpkin Pie Spice.
As the webiste says:
"The patent pending Scandle Shimmering Body Candle is a candle that burns at 2° above body temperature to produce a shimmering, fragrant lotion to give your skin a healthy, sexy & flawless glow! Made from 100% natural ingredients, Scandle's Shimmering Body Candle is the first candle to: Give Skin a Natural Shimmer, Hide Wrinkles & Imperfections by Deflecting Light, and Hydrate Skin while Adding Aroma & Ambiance to any Setting. Scandle's Shimmering Travel Candle is in a square lightweight tin for easy application. Silicone band can be removed after use and used as an eco-wrist band reminder to "Reduce. Reuse. Recycle."
During this time of year I love any and everything pumpkin so when I heard about this candle I had to try it and I really like it. It's so creative and unique that it's also a lotion. It smells great burning as well as when you put it on your skin. I know pumpkin pie might sound weird as a lotion but it really smells great, it's a wonderful autumn scent. I also like how it's shimmering isn't sparkly but it gives your skin a nice gold-kissed glow.
The travel size is really great too because it's not super small but still very compact so you can take it pretty much anywhere. To your boyfriend's house, or just move it into the kitchen, or give it to a friend.
Definitely check out Scandle Candle, they also have great candles that double as massaging oils, too!
Buy It!
Head on over to
Scandle Candle's website
and browse their awesome collection!