Hey everyone! My next review is for
BeautyMint
. BeautyMint is is a really great company much like JewelMint and StyleMint. It's a monthly based beauty program for your skin created by beauty expert Nerida Joy and Jessica Simpson.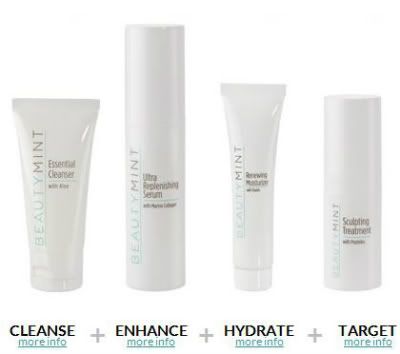 The products I received are:

Essential Cleanser with Aloe
Ultra Replenishing Serum with Marine Collagen
Scuplting Treatment with Peptides
Strengthing Hydrator with SPF 15
When you first join BeautyMint you answer a series of questions and BeautyMint evaluates your skin care concerns and goals. Then every month they will send you a new replishment. You can either purchase the Your Core System Comprehensive 4-piece system for $39.99 or Jessica Simpson's recommendation of the Advanced 5-piece system for $49.99. They also have a BeautyMint promise which is:
"If you're not 100% satisfied with your BeautyMint system, simply return all your products – even if they're empty – within 30 days for a full refund (minus shipping and handling)."
I really like my system especially the essential cleanser. As the website says: This gentle, lightly foaming cleanser washes away dirt, makeup and impurities, leaving skin feeling fresh and soft. Some benefits are: No harsh lathering agents, fragrance-free, oil-free, Aloe, cucumber and chamomile blend is designed to soothe and refresh, and Perfect for all skin types. I use it every night and it works great. Let's talk about the others: The Ultra Replenishing Serum targets signs of aging from every angle, Ingredients promote hydration, and Patented technology delivers a power-load of actives to skin. The sculpting treatment targets visible signs of aging like diminished firmness and tone, Ingredients help promote vibrancy, and Botanicals like acai and green tea contain protective properties. Lastly the Strengthening hydrator is ultra-hydrating and has protective ingredients in this weightless lotion are delivered to skin with our patented technology designed to maximize benefits.
I really liked this system, it didn't dry out my skin, it improved my skin a little more than usual. I still get pimples though, so I need to work on that. But it did make my skin feel very soft and nice. I like that they're pretty easy to use, too, like the cleanser is just basic rub on your face and rinse, the other three you just put on your face dryly and wait til it dries.
Overall, it's a really great system, definitely check it out if you want start using an easier and arguably better way to clean you face!
Buy It!
Head on over to
BeautyMint's website
and start your own system!