Hey everyone! My next review is for
iRenew
. iRenew have awesome sports bracelets that may help support balance, endurance, and strength when the bracelet is worn. I received the bracelet in black.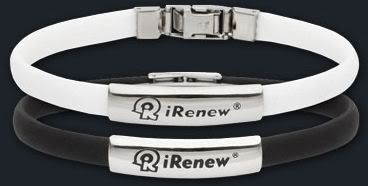 As the website says:
"iRenew bracelets are infused with Selective Frequency Resonance technology which makes them different from every other wristband on the market. A recent study concluded that iRenew's SFR technology may promote, balance, strength and endurance. iRenew bracelets contain no magnets like some wristbands. Other silicone wristbands my look like iRenew bracelets but they won't perform like iRenew bracelets."
I really like the idea of this bracelet and I know they're pretty popular. It was one of the most popular fashion trends of 2010. Reggie Bush and Liam Hemsworth were wearing them, so these are pretty legit.
I like how they're easily adjustable, all you have to do is unlatch it and cut the wrist to your size. It's made of silicone rubber and stainless steel. It's available in other colors too but I like the black because a lot of my work out apparel is black so it matches well and I'm a girl that likes to match.
I wore it to the gym a few times, I wore it to spin class and when I was lifting weights and I didn't really notice that much of a difference to be honest. But I'm also just getting started at the gym again after a month or so hiatus so I'm a bit rusty in general. I'm sure if I was fit I would feel a difference. I mean if athletes rock them I should too.
They're very reasonably priced coming in at only $19.99 and you can get them at your local grocery store like Stop N Shop, CVS, Kmart, etc. I would definitely check them out if you want to continue leading a healthier life.
Buy It!
Head on over to
iRenew's website
and browse their selection and colors!