Hey everyone! My next review is for
Devo Olive Oil
. Devo Olive Oil is a great company that has over 50 varieties of olive oils and balsamic vinegars. I received one awesome olive oil to try.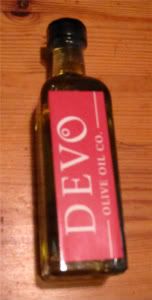 The olive oil I received was
White Truffle Olive Oil
.
I had always heard of white truffle olive oil being fancy and delicious and now I know why.
As the website says:
"Connoisseurs' olive oil. Made in Italy in an artisan fashion by steeping White Truffles in extra virgin oil which yields this prized condiment, allowing us Plebeians the pleasure of enjoying one of the most expensive flavors on earth. Notes: A great finishing olive oil for many gourmet dishes, spectacular on popcorn, brings roasted potatoes to life."
I'm not a big cook so I wasn't really sure what to cook with the truffle olive oil. So naturally, I google'd it and found some pretty cool recipes. Pastas, shrimp, eggs. Many of them were really fancy but also really complicated.
So I made a delicious White Pizza and I found this recipe
here
.
Pizza with Truffle Oil, Mushrooms and Mozzarella
My pizza dough was good but I was not thrilled with it. Try this one from a chef who certainly knows what he is doing. I was stupid not to use this recipe myself.
Pizza Dough
Truffle Oil
2 cups mushrooms (shitake, crimini and or others)
Fresh Mozzarella Cheese
Parmesan Cheese
Make the pizza dough according to directions. Roll out the dough and rub it with truffle oil. (I used 2-3 Tablespoons for the pizza) Saute mushrooms slightly in some olive oil or butter. Spread them over the pizza. Top with rounds of fresh mozzarella and sprinkle with parmesan. Cook pizza in a 500 degree oven on a pizza stone, if possible, until crust is browned and cheese is bubbling.
It was delicious. My roommates and I practically inhaled the pizza and I forgot to take a picture because we were a little too excited for the pizza. The truffle oil really makes it. White truffle olive oil is made from white truffle mushrooms and gives it a nice almost aroma and even more flavorful than regular olive oil.
Definitely check out Devo Olive Oil because they have such a great selection of olive oils and balsamic vinegars. Almost every flavor under the sun! If you like any type of oil or vinegar you will definitely like Devo Olive Oil!
Buy It!
Head on over to
Devo Olive Oil's website
and browse their huge selection.