Hey everyone! My next review is for
Lovin' Scoopful
. Lovin' Scoopful is a delicious ice cream company that has an insane amount of delicious flavors. They sent me a coupon and I purchased the craziest, most delicious ice cream flavor I have had in a while.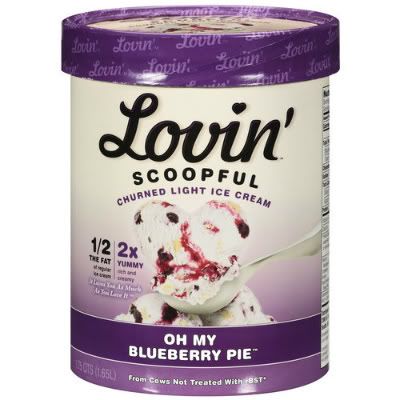 Oh My Blueberry Pie
Yup, that's what it is called. Once I heard they had a blueberry ice cream I didn't even hesistate to grab that carton. Sure, they have other incredible flavors that I am sure taste just as delicious like Caramel Chocolate Heaven and What the Fudge! But I am a blueberry girl, through and through. And man, I am glad I picked this one. The description on the carton says it best:
"We've swirled a blueberry ribbon into our churned light blueberry ice cream and then mixed in sugar coated pie crust pieces to give it a little extra kick. To think it comes with half the fat. Oh my!"
This is so, so good! Seriously. It definitely will not last long in my house, I can tell you that. It's crazy too how a half of a cup is only 130 calories, that is a rarity for such a delicious ice cream. That's because they blend their gourmet ice cream with only half the fat of regular premium ice cream brands and it tastes just as good, if not better! It's packed full of blueberry flavor and the pie crust pieces make it even more delicious.
But Lovin' Scoopful isn't just delicious, they promote a very important cause, too. Lovin' Scoopful donates 25% of its post tax profits ($50,000 minimum annually) to Special Olympics. They believe donating proceeds to a unique cause helps power the human spirit and I believe they're right. It's great to support a delicious ice cream brand that stands for something important. I also like that they don't just donate like 5% like many brands do but they donate a whopping 25% which is pretty serious.
Defintiely check out Lovin' Scoopful because they have such a great variety of ice cream flavors, they do have basic flavors like Cozy Vanilla but then crazy awesome unique flavors like Rockin' Raspberry Cheesecake. If you love ice cream you will love Lovin' Scoopful. Also, it is great to buy a brand that follows a cause and donates proceeds to the Special Olympics.
Buy It!
Head on over to
Lovin' Scoopful's website
and browse their awesome ice cream flavors, while you're there enter your zip code and find a store near you! I know Lovin' Scoopful is sold at Ralph's and Albertsons on the west coast!