Hey everyone! My next review is for
Kroeger's The Truly Awesome Homestyle Chocolate Chip Cookies
! These cookies are crazy delicious and just perfect for snacking when you're in a cookie mood. I received this from
BzzAgents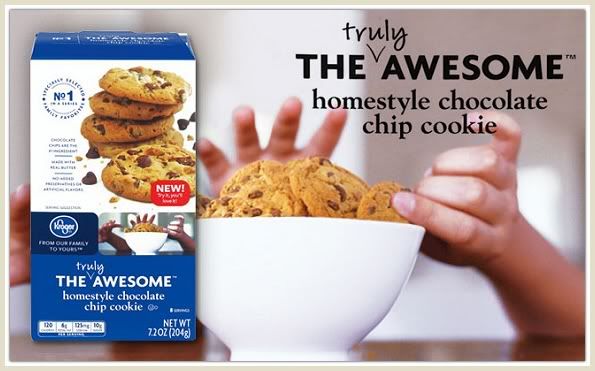 I received TWO delicious boxes of cookies! Let me just tell you the first box was gone in a day and a half. They are just tooo good. My and my roommates loved them. I also love the little suggestions on the box for how to snack on them. For instance: Microwave for a few seconds, make ice cream sandwiches, or dip them in melted chocolate. Yum!
They also have the perfect amount of chocolate chips. I'm super picky with chocolate chip cookies because they usually have only a little bit, but these are fully loaded with them. They're just like homemade cookies, especially if you microwave them which is what I've been doing, they come out so nice and warm. They're soft and perfect, they also go great with milk. I love warming them up in the microwave and then dipping them in some milk, delicious! They're also nice and thick and delicious. The problem with them? They're addicting. Seriously, they are so delicious! They're also 120 calories per cookie which is a little much but sometimes everyone deserves a treat or...four...because they're so good! But watch out with the boxes, I think they do break easily because both of my boxes had some mashed up cookies.
A great thing about them is that they're only $2.79 which is totally worth it because there's 8 giant cookies in each box.
Definitely check them out if you want to try a yummy new cookie. Definitely better and bigger than those Chips Ahoy cookies, not gonna lie.
Buy It!
These cookies are super new, they just arrived in stores earlier this year. But head on over to your local Kroeger, Fred Meyer, and/or Ralph's stores. I just went to Ralph's the other day and saw them.
Disclaimer-
I was provided a product in exchange for my review.
You can read more about my blog policies in my disclaimer.