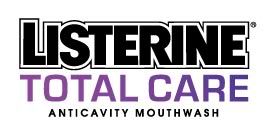 Hey everyone! My next review is for
Listerine's Total Care Zero
. I'm a huge Listerine fan so I was pretty pumped to try out this new Total Care Zero. I was given the chance to sample this thanks to
Crowdtap
.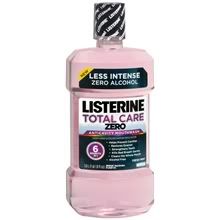 Listerine Total Care Zero is a less intense, alcohol-free mouthwash. After carefully listening to consumers who wanted a less-intense mouthwash, Listerine has introduced this formula. It helps answer the craving and encourage a complete oral care routine.
The formula provides the same healthy mouth benefits of Listerine just with zero alcohol:
-Restores enamel
-Helps prevent Cavities
-Strengthens teeth
-Kills germs that causes bad breath
-Freshens breath
-Cleans the whole mouth
To be honest, I guess I'm one of the few that likes a more intense mouthwash. I know the alcohol isn't good for you enamel and such, I think my friend told me it starts to make your enamel wear off. But I like the taste of the blue and green Listerines. It just tastes better to me, this Total Care tasted a little weird, almost like medicine and kind of bubbled in your mouth more. But, to be honest it is better for you. Alcohol free is the way to go and if it prevents cavities and does more work than the regular Listerine, even if it doesn't taste as good, I'm still going to buy it and use it more.
I would definitely check it out if you were the people that didn't like Listerine because of the intensity but I also also check it out too even if you're a Listerine fan. Alcohol free is the way to be.
Buy It!
Listerine Total Care Zero is in stores now! Head on over to
Listerine's website
amd get a $1 off coupon!
Disclaimer-
I was provided a product in exchange for my review thanks to
crowdtap
.
You can read more about my blog policies in my disclaimer.