Hey everyone! My next review and giveaway is for the
Slobproof Paint Pen
. The Slobproof Paint Pen is this really awesome little touch up pen. You put your excess paint in this pen and if you get scraps or scratches in your wall, just touch it up with the little pen.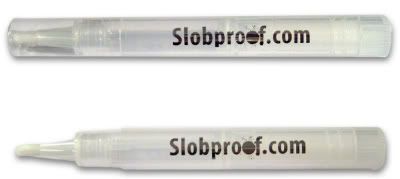 The people at Slobproof really contacted me at the right time, let me just say. We are painting our kitchen this week so the pen is definitely coming in handy! Not that we knock into our walls or anything frequently, just that typically I don't have any spare paint to fix nixes and knocks but now I will!
I actually gave the pen to my roommate because she is in charge of the painting process, it was her idea and she's mainly our "landlord" to put it loosely. So yeah she was pretty happy to receive it. But she also wondered maybe she could use it for nail polish instead, I wasn't sure, but if you're feeling creative and don't mess up your walls too much you guys can totally try that out too.
As the website says:
"No more dings, no more dents, no more marks on your walls! The Slobproof! Paint Pen is quick, convenient, and easy to use! Just remove the brush top and fill it with your paint. Then snap the brush top in place, twist the bottom of the pen and you are ready to start touching up your walls, trim, ceiling, or doors! Rinse the brush with water when finished, replace the cap, and then throw it in a kitchen drawer until you need it again!"
It kind of reminds me of a white-out pen but for paint, pretty nifty!
Definitely check out the Slobproof Paint Pen and check Slobproof out in general they have great furniture and more that is meant to last for little mess ups. If you have a kid, you can let him eat ice cream on your chair and not worry about it! Yayyy!
Buy It!
Head on over to
Slobproof's website
and browse their selection. Their Paint Pen is only $19.99 and sold in sets of two!
Win It!
ONE winner will win a Slobproof Paint Pen for themselves!
1. Head on over to
Slobproof's website
and tell me another product of theirs you would be interested in trying. Please answer this question or else your comment will not count! You must do this first or future entries will not be counted. (1 entry)
BONUS ENTRIES
2. Follow starIMPULSE on blogger. (2 entries!)
3. Subscribe by Email and Confirm that Subscription (1 entry)
4. Follow me on Twitter. (1 entry)
5. Tweet about this giveaway and send me a direct link to that tweet, you can do this once a day. (1 entry per day)
6.Subscribe to my YouTube channel. (1 entry)
7. Add my StarIMPULSE button to your sidebar and send me think link to your blog so I can see it. (1 entry)
8. Add StarIMPULSE to your blogroll (using my URL), with a link back to me! (1 entry)
ONE winner will be chosen on February 1st, 2012 at 5:00pm (EST) and then will be emailed.
Alternate winners will be chosen if winner does not respond after 48 hours. This contest is only open to US Residents only. Thank you and good luck!