Hey everyone! This past Wednesday, January 11th I was given the opportunity to attend a really awesome event thanks to the wonderful people at
Pretty City
. Pretty City is a fantastic beauty that hosts beauty events in various cities like New York and Los Angeles. They also have deals for salons and spas, product reviews, and so much more. Basically if you love beauty you will probably become addicted to this website, it is awesome. For this event they partnered with Shape Magazine and presented the
Beauty Sample Sale
which was so, so awesome.
Some of the goodies I received:
thinkThin Crunch bar - Chocolate Dipped in Nuts
thinkThin bar - Brownie Crunch
Haken Sunflower Body Butter
Girlfriends BFF Blotting Papers
Jergens Natural Glow Moisturizer
Tria Clarifying Foam Cleanser
The Healthy Lip Shine in Lavanilla
Mirabella Spring-ology 3 Eyeshadow Pallet
Pureology cloth
Pureology Antifade Complex Sample
Revision Intellishade Sample
Mirenesse Plastic Fantastic Mascara
Milani Baked Bronzer
BH Cosmetics 6 Color Eyeshadow Pallet
BH Cosmetics Gel Eyeliner
BH Cosmetics Eye and Lip Primer
BH Cosmetics Earth Waterproof Lip Liner
3 Awesome BH Cosmetics Eyeshadow Brushes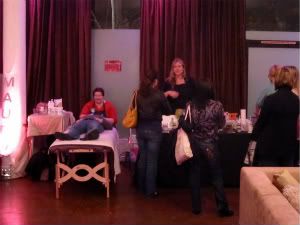 Amazing! I also received other products like a Redken product to make your hair glossy looking and an anti-frizz product. But I gave it to my guest who came with me because she didn't get a bag.
Me and my friend Kailey
The experience was amazing though, it was so much fun! We got to sample wine from Naked Grape even have a glass, I chose their Moscato which was delicious. There were incredible appetizers and snacks being brought around everything from chicken and waffles to cupcakes. There was also free massages, hair-dos, manicures, facials, make-overs and more! Check out how awesome my hair looked after Kevin Moshier did it. It looked so pretty! I slept with it in and wore it for a little bit the next day just so I could show it off some more. I also got my nails done by Tania L. Williams and a massage by her company too. One of the best massages ever, too! She had my arms twisting in the back and was really digging into my shoulders, it was incredible. I also received an amazing hydrating facial from Solyn Studio which was so nice. And to top it off a make-over from BH Cosmetics, a brand which is awesome. I have done a review for them in the past and they were so nice to the guests, giving out crazy awesome goodie bags!
I believe tickets were around $27 which is totally worth it considering what you get out of it. The goodie bag alone was worth over $125! Let alone all of the great treatments.
One negative, was just me being an idiot and I should've taken the $8 valet, instead I parked on the street and got a $63 parking ticket. That's what you get for LA street parking!
Definitely check out
Pretty City's website
for upcoming events near you, they have events all the time across the US this was so much fun and my friend, Kailey, and I had an awesome time! Also be on the lookout for some more reviews and hopefully a giveaway or two for them in the future!